Stainless Steel Coatings withstand washdowns and chemicals.
Press Release Summary: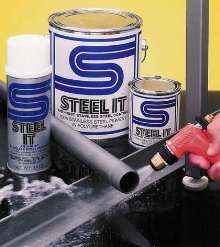 Applied to metallic and non-metallic surfaces, STEEL IT® anti-rust coatings provide chip- and scratch-resistant finish for protection against UV light, weather, and solvents/detergents. Products, applied by conventional or airless spraying, brush, or roller, have 316L stainless steel leafing pigment that creates metallic barrier. USDA-approved coatings provide 2H pencil hardness and are available in polyurethane-, epoxy-, and low VOC systems.
---
Original Press Release:
Stainless Steel Coatings Withstand Washdowns, Weather and Chemicals

A line of stainless steel coatings that can be applied to a wide range of metallic and non-metallic surfaces for protection against the harmful effects of high-pressure washdowns, weather, and most chemicals is available from Stainless Steel Coatings, Inc. of S. Lancaster, Massachusetts.

STEEL IT® Anti-Rust Stainless Steel Coatings provide a durable chip- and scratch-resistant finish that withstands high-pressure power washing, salt spray, UV light, and a wide range of chemicals, solvents, and detergents. Featuring a 316L stainless steel leafing pigment that creates a metallic barrier, these coatings can be applied by conventional or airless spraying, by brush, or roller, and adhere vigorously for optimum corrosion protection.

Suitable for a wide variety of applications, STEEL IT® Anti-Rust Stainless Steel Coatings are available in polyurethane-, epoxy-, and low VOC systems, are USDA-approved, and provide 2H pencil hardness, depending upon version. Applications include food, pharmaceutical, packaging, and processing machinery, pollution equipment, bridge structures, and marine hardware.

STEEL IT® Anti-Rust Stainless Steel Coatings are priced from $99.00 (list) per gallon, depending upon formulation. Literature is available on request.

For more information contact:

Stainless Steel Coatings, Inc.

Michael Faigen, Marketing Director

835 Sterling Rd. / P.O. Box 1145

So. Lancaster, MA 01561

(978) 365-9828 FAX (978) 365-9874

e-mail: info@steel-it.com

www.steel-it.com
More from Construction Equipment and Supplies