Stainless Steel Casters handle moisture and chemicals.
Press Release Summary: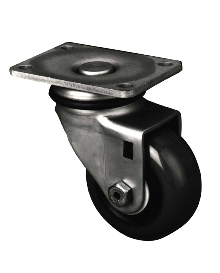 Cartwash 60 and 80 series casters are available in 300 series stainless steel, making them suitable for use in food processing, hospital, chemical and industrial applications with sanitary or extremely harsh environments. Casters come with swivel and rigid configurations, 4-point universal plate mounts, and choice of neoprene, rubber, polyolefin, thermo-plastic rubber, solid stainless and polyurethane wheels in diameters from 3 1/4 to 8 in.
---
Original Press Release:
Darnell-Rose Has Announced That Its Popular 60 and 80 Series Cartwash Casters Are Now Available In 300 Series Stainless Steel

Darnell-Rose has announced that its popular 60 and 80 series Cartwash casters are now available in 300 series Stainless Steel. According to Keith McKinney, Manager of Customer Service; "This gives Damell-Rose a moisture and chemically resistant medium and medium-heavy duty caster series in the 200 to 900 pound capacity range. This covers food processing, hospital, chemical and other industrial applications where casters need to operate efficiently in a sanitary or extremely harsh environment. The application of stainless steel in the construction has allowed the Cartwash series the ultimate level of corrosion protection for any caster. With stainless steel materials and other Darnell-Rose innovations such as the heavy-duty 4-sided double ball raceways protected with special seals the Cartwash is built for ultimate performance and is backed with a 3-year warranty." The stainless steel Cartwash is available in both swivel and rigid configurations with 4-point universal plate mounting. A wide variety of wheel designs are available including neoprene, rubber, polyolefin, thermo-plastic rubber, solid stainless and a high-performance polyurethane known as Advanced Elastomer. Wheel diameters range from 3-1/4 to 8 inches. Stainless steel brakes and swivel locks are also available for the stainless steel Cartwash

About Darnell-Rose: Darnell-Rose, a division of Evans Industries, has been providing a wide range of high quality standard and custom designed casters and wheels since 1921. Darnell-Rose offers exceptional customer service and is an ISO 9001 registered company.

Darnell-Rose and the Darnell-Rose logo are trademarks or registered trademarks of Darnell-Rose in the USA and throughout the world.

More from Mechanical Power Transmission