Stainless Steel Cable Tray protects against washdown.
Press Release Summary: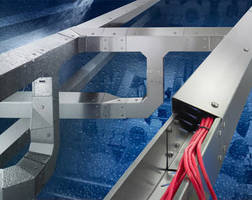 Featuring sloped-top design that minimizes dirt, debris, and mold build-up, CLEAN TRAY(TM) UL Type 1 Stainless Steel Cable Tray aids power and data cable management in sanitary environments. Flat and 20° sloped cover as well as perforated and non-perforated bottom options are available. Other options include variable angle fittings that adjust from 0° to 90°; telescopic straight sections with 18-29 in. extension range; and sloped-top fittings with front, inside, or outside cover options.
---
Original Press Release:

Hoffman Clean Tray(TM) Stainless Steel Type 1 Cable Tray Accommodates Custom Runs, Protects Against Washdown



Anoka, MN-December 15, 2008-Hoffman announces its expanded line of CLEAN TRAY(TM) UL Type 1 Stainless Steel Cable Tray for power and data cable management in sanitary food and beverage processing and packaging environments. CLEAN TRAY protects rated cabling and features a unique sloped-top sanitary design that minimizes dirt, debris and mold build-up in addition to facilitating ease-of-cleaning. Now, the CLEAN TRAY line also includes numerous new sloped-top fittings, variable angle fittings and telescopic straight sections that translate to greater installation savings and optimal sanitary performance.

As stricter requirements for a clean design are implemented to further promote sanitary conditions in food, beverage and pharmaceutical environments, data and cable management systems must also be updated to accommodate these changes and facilitate cleaning, said Rita Bejjani, Hoffman Commercial Product Manager.

CLEAN TRAY-the only UL Type 1 stainless steel cable tray manufactured in North America-is offered with sloped- and flat-cover options, as well as perforated and non-perforated bottoms. Additionally, the line extension now includes:
New variable angle fittings adjust from 0 to 90 degrees to easily fit corners and simplify field integration and installation
Adjustable straight sections with an 18- to 29-inch extension range provide application flexibility
Variety of new sloped-top fittings with front, inside or outside cover options allow for highly-customized runs
45- and 90-degree elbows with female and male coupling options to accommodate applications that require tight turns (two elbows coupled together) while minimizing installation time

Applications. Hoffmans CLEAN TRAY Type 1 Stainless Steel Cable Tray delivers high-performance protection for rated cables in beverage and pharmaceutical industries, including:
Non-alcoholic bottling
Brewing
Wine production
Pharmaceutical manufacturing and packaging
Bottle conveyor machinery production
Bottle blow molder machinery production
Beverage filler machinery production

In addition, customers will receive the standard features and benefits that come with Hoffmans existing CLEAN TRAY offering:
Removable top or side for cabling access eliminates the time and hassle of pulling cable
Perforations in the bottom of fittings and straight sections to drain water after washdown
Flat cover and 20-degree sloped cover models available
Connecting hardware included with each model
18 gauge stainless steel formed to minimize unnecessary ridges and potential bacteria catch-points compared to competitive offerings
Adjustable dividers provide two separate width sections
Available in sizes ranging from 2 x 2 to 6 x 6 inches

About Hoffman
Hoffman, based in Anoka, Minn., is a leading designer and manufacturer of systems that safely and reliably protect the electronic and electrical controls in industrial, data communication and commercial construction applications. With more than 60 years of experience, extensive technical expertise and a vast distribution network, Hoffman is recognized as an industry leader providing a broad range of standard, modified and custom enclosure solutions to customers worldwide. Hoffman is a member of the Pentair Technical Products Group, which also includes Pentair Electronic Packaging, Schroff, Pentair Enclosures Europe, Pentair Enclosures Asia, Aspen Motion Control and McLean Thermal. For more information or to locate a sales office, visit www.hoffmanonline.com or contact Hoffman Enclosures, 2100 Hoffman Way, Anoka, MN 55303.

More from Fluid & Gas Flow Equipment