Staining/Blotting Trays can be thrown away or reused.
Press Release Summary: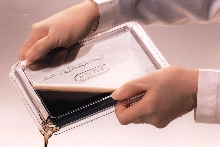 Criterion(TM) trays for staining Criterion gels or performing western blot detection are disposable, eliminating washing and concerns about contamination from previous experiments. They can also be reused many times if preferred. Trays provide working volume of approximately 500 ml. Lids and easy-pour spouts facilitate liquid removal without touching gels. Lids and trays are transparent for monitoring of gel staining.
---
Original Press Release:
Bio-Rad Introduces Criterion(TM) Staining/Blotting Trays Sized to Reduce Waste, Priced to be Semi-disposable
HERCULES, CA, July 26, 2002-New trays from Bio-Rad are designed specifically for staining Criterion gels or performing western blot detection. This eliminates reagent waste from using oversized trays, and the full-featured Criterion trays are priced low enough to be considered disposable, eliminating time-consuming washing and concerns about contamination from previous experiments. They can also be reused many times if preferred, for additional economy. Dimensions are optimized for Criterion gel staining and blot detection, providing a working volume of approximately 500 ml. Lids and easy-pour spouts facilitate liquid removal without touching gels. The design is an improvement over drain plugs or baskets which can be misplaced. The recyclable Criterion trays and lids are lightweight, compact and stackable, saving space during storage and usage. Lids and trays are transparent for easy monitoring of gel staining. "There are many researchers who would appreciate relief from tedious tray washing, but don't feel good about throwing away a twenty-plus dollar item," observes Blanca Chang, Product Manager, Bio-Rad BioMaterials Division. "We expect Criterion staining and blotting trays to be popular among this group." Bio-Rad Laboratories, Inc. (www.bio-rad.com) is a multinational manufacturer and distributor of life science research products and clinical diagnostics. It is based in Hercules, California, and serves more than 70,000 research and industry customers worldwide through a network of more than 30 wholly owned subsidiary offices. For more information call 800-424-6723 (800-4BIO-RAD) or visit us on the web at discover.bio-rad.com All trademarks and registered trademarks are property of their respective holders. Editorial Contact: Richelle Serrano Senior Product Manager, BioMaterials Bio-Rad Laboratories, Inc. Phone: (510) 741-6763 E-mail: richelle_serrano@bio-rad.com Debbie Schantz Bio-Rad Laboratories, Inc. 2000 Alfred Nobel Drive Hercules, CA 94547 E-mail: debbie_schantz@bio-rad.com
More from Agricultural & Farming Products