Stacker has single mast design for visibility of load.
Press Release Summary: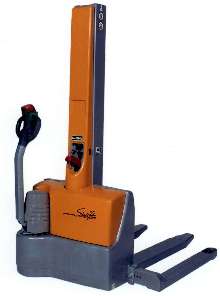 Swift model light- to medium-duty walkie stacker suits material handling applications requiring lift heights of 62.5 or 79 in. Available with adjustable straddle or fork-over design, unit handles pallets and skids of various sizes. Hydraulic lifting/lowering power is generated by high-pressure pump with 1.0 kW series wound motor. Vehicle drive system uses 0.3 kW permanent magnet motor. Load capacity is rated at 2,000 lbs with 23.6 in. load center.
---
Original Press Release:
Swift Stacker with Single Mast Design Provides Maximum Visibility for Warehouse and Distribution Center Pallet Handling

The Swift model stacker, a new light- to medium-duty "walkie" for material handling applications which require lift heights of 62.5 or 79 inches, is available from Multiton MIC Corporation, Richmond, Va. The stacker features a single mast design that provides increased visibility of the load during transporting and lifting operations. The compact Swift requires only limited space and has performed successfully in a wide variety of applications, such as: low volume distribution centers, plant warehouses, grocery stores, maintenance shops, processing facilities and assembly lines, among others.

The Swift stacker is available with either a straddle or fork-over design providing extreme versatility when handling pallets or skids of various sizes. Hydraulic lifting/lowering power is generated by a high-pressure pump with a 1.0 kW series wound motor; and the vehicle drive system uses a 0.3kW permanent magnet motor with shunt characteristics. Power transmission is achieved using a two-stage gear unit for maximum efficiency.

The Swift truck is 67.3 inches long and has a load capacity of 2000 pounds at a 23.6-inch load center. The truck has a maximum overall width of 57.9 inches with the straddle leg design, and straddle legs offer 6 stages of adjustment in 1.96-inch increments. The four-wheel truck has a polyurethane steering wheel that is 9.06 inches in diameter and 3.15 inches wide for maximum maneuverability. The load wheels are 3.35-inch diameter, 2.76-inch wide polyurethane.

All trucks have standard 2 x 12V/60Ah batteries including a built-in microprocessor controlled battery charger with charge control light, compensating charge and maintenance charge. Batteries can be charged using any common 120V AC outlet. Other standard features include: electronic speed controller, emergency stop plug, battery discharge indicator, charge control lamp, battery charging plug, key lock and mast covering. All electrical and hydraulic systems are easily accessible for trouble-free maintenance.

For more information on the Swift Stacker, contact Multiton MIC Corporation, 5701 Eastport Boulevard, Richmond, VA 23231, phone 804-737-7400, fax 804-737-9050, www.multiton.com.