Stacked Array provides kilowatts of continuous-wave power.
Press Release Summary: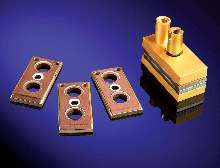 LightStack(TM) diode laser stacked array is based on LightStone(TM) bars, which provide 60 W CW in 780-820 nm wavelength range. Typical operating current and voltage is 70 A at less than 2 V. Beam divergence is less than 40º by 10º, FWHM. LightStack is 2D configurable to max of twenty 60 W bars vertically, and ten 60 W bars horizontally. Lifetime of 10,000 hr is enhanced by aluminum-free, active area design, which decreases oxidation.
---
Original Press Release:

Coherent Introduces Its Highest Power Stacked Array


Santa Clara, Calif., February 5, 2003 - Coherent, Inc. (NASDAQ:COHR) announces, LightStack(TM), its highest power diode laser stacked array to date. LightStack is designed specifically for applications that require kilowatts of continuous-wave (CW) laser power.

LightStack provides nearly a kilowatt of light from the industry's most compact package. LightStack is 2-D configurable to a maximum of twenty 60W bars vertically, and ten 60W bars horizontally. "LightStack represents an essential building block for both next-generation direct-diode materials processing and high-power laser pumping applications," said Coherent product line manager Michael Atchley. "These compact, high-brightness systems provide integrators with unparalleled advantages, including very simple optical delivery, a smaller head design than competitive products, and reduced maintenance based on very long lifetimes and a smaller component count."

LightStack arrays are comprised of Coherent's recently released LightStone(TM) bars-a product family based on the industry-standard, macro-channel cooled platform (MCCP). LightStone bars provide 60W CW in the 780 nm to 820 nm wavelength range. These 50% fill-factor bars measure 1 cm long and feature a 1 mm cavity. Typical operating current and voltage for the 60W devices is 70 amperes at less than 2 volts. Beam divergence is less than 40º by 10º, FWHM.

LightStone bars also provide over 50% power conversion efficiency, even at elevated temperatures. The proprietary cooling technology behind the LightStone's low thermal resistance is the foundation for the unit's 10,000-hour lifetime. This long lifetime is also enhanced by the unit's aluminum-free, active area (AAA) design-a feature that significantly decreases facet oxidation, which is the primary failure mechanism associated with conventional AlGaAs semiconductor materials.

A custom-configured product, LightStack, is currently available upon consultation with the Coherent factory.

Founded in 1966, Coherent, Inc. is a Standard & Poor's SmallCap 600 company and a world leader in providing photonics-based solutions for the commercial and scientific research markets. Please direct any questions to Michael Atchley, product line manager, at (408) 764-4856. For more information about Coherent, including product and financial updates, visit our Web site at www.CoherentInc.com.

More from Controls & Controllers