Stack Lights offer daylight visibility via Ultrabright LED.
Press Release Summary: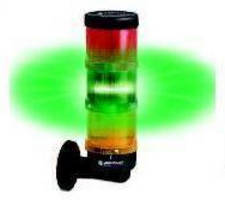 KombiSIGN 70 and 71 series support stack light element that uses Ultrabright LED technology to provide brightness level which enables visibility in direct sunlight and other brightly lit areas. After LEDs rise in temperature for ~10 min, power applied to LEDs decreases to point that still provides acceptably bright output yet saves power and prevents further rising of LED temperature. KombiSIGN 71 stack light additionally offers IP65 ingress protection.
---
Original Press Release:

Ultrabright LED Light



WERMA's new and innovative "Ultrabright" LED technology allows this stack light element to shine more than 20 times brighter than a conventional LED element.

Designed for integration into both our existing KombiSIGN 70 and 71 series, this new element provides a brightness level that has extremely good visibility in direct sunlight and other brightly lit areas. Despite its high efficiency, an engergy saving circuit is used. After the LEDs rise in temperature (for approximately 10 minutes) the power applied to the LEDs decreases to a point that still provides an acceptably bright output yet saves power and prevents higher temeratures of the LEDs. Keeping these LEDs cool maintains a long life expectancy.

TYPICAL APPLICATIONS INCLUDE:
Machine tools, Packaging machines, Conveyor systems, Printing machines, Loading docks, Retail centers (check outs), Queuing indicators for theme parks, etc.

FEATURES

Extremely bright visibility

LED light source

Mounts on an existing KombiSIGN 70 or 71 series of WERMA stack lights

BENEFITS

Long lamp life

Low power consumption

Not susceptible to vibrations

Eliminates false visual indications due to bright ambient areas

TECHNICAL

+50,000 hours of coninuous operation

24V operation

KombiSIGN 71 stack light compatibility provides IP65 ingress protection

More from Agricultural & Farming Products