Stepper Motor Controllers and Drives
STAC6-Q-H Step Motor Drive works on anti-resonance algorithm.
Press Release Summary: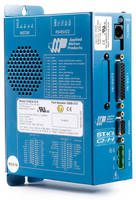 Operating in -40 to +55 °C temperature range with 94-135 VAC, 50/60 Hz, single-phase supply voltage, STAC6-Q-H Step Motor Drive is designed with 7 digital inputs, 3 digital outputs and ±10 volt range 2 analog inputs. Delivering 120 Vdc, 1 phase, 4.24 A (rms) output power, unit is controlled with streaming commands, analog positioning, encoder following and Q programming. Featuring encoder feedback option, product comes in 6.35 x 4.66 x 2.31 in. dimensions.
---
Original Press Release:
STAC6-Q-H – Advanced Step Motor Drive for Hazardous Locations
The Only Internationally Certified Hazardous Location Stepper Drive Available
The STAC6 offers best-in-class anti-resonance that ensures optimal performance of the step motor over the widest speed range. The drive is powered by single-phase 120 VAC which generates a nominal 160 volt DC internal bus voltage capable of driving the highest torque NEMA 34 and 42 frame step motors on the market. Features include:
ATEX and IECEx certified for Class I, Zone 2 locations
UL certified for Class 1, Div 2, Group C & D locations
HazLoc Step Motor Drive
HazLoc certified for USA, Canada, Europe and Middle East
Advanced anti-resonance algorithm
Torque ripple smoothing
Microstepping to 51,200 steps/rev
Encoder feedback option for enhanced system accuracy using Stall Detection and Stall Prevention
Designed for use with high quality NEMA 23, 24, 34 and 42 frame step motors
7 digital inputs, 3 digital outputs, all optically isolated
2 analog inputs, +/-10 volt range
Supply Voltage: 94-135 VAC, 50/60 Hz, single-phase
Input Power: 120 Vac, 1 Phase, 1.67 A (rms)
Output Power: 120 Vdc, 1 phase, 4.24 A (rms), Continuous Duty Rating
Control Modes: Streaming Commands, Analog Positioning, Encoder Following, Q Programming
Output Current: 0.5-6.0 A/phase, peak-of-sine
Communication Ports: RS-232, RS-485
Idle Current Reduction: 0-100%
Setup Method: Software setup
Dimensions: 6.35 x 4.66 x 2.31 inches
Weight: 32 oz.
Ambient Temperature Range: -40 to +55 °C (-40 to +131 °F)
Ambient Humidity: 90% max, non-condensing
For more information, please contact:
Electromate
Phone: (877) 737-8698
More from Communication Systems & Equipment