Stäubli Electrical Connectors' Medicalline Brings Reliability to MD&M West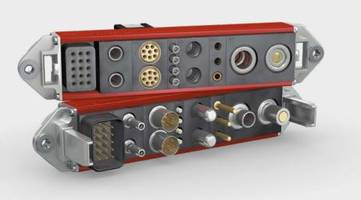 Corrosion-resistant, high-quality components make Stäubli the leader in reliable electromedical contact solutions
WINDSOR, Calif. (January 25, 2018) - Stäubli Electrical Connectors will showcase their Medicalline electrical connector solutions for the medical field at MD&M West (Booth #438) in Anaheim, Calif., February 6-8.
Stäubli's special product line for electromedical equipment has been developed using its unique knowledge and expertise in developing and manufacturing safety products for test and measurement. Built for the specific requirements of the medical industry, Stäubli's advanced MULTILAM contact technology features gold-plated contact elements that provide its medical connectors the highest dependability and corrosion resistance. Connectors are suited for steam sterilization and also available for disposable applications.
"In medical technology, reliability is absolutely vital, and we offer connectors of the highest quality and reliability," said Christian España, sales and marketing manager, Stäubli Electrical Connectors. "We take pride in engineering high-quality, customized solutions for individual requirements to ensure we are able to meet the needs of our customers."
Stäubli's proprietary MULTILAM technology creates an industry-leading electrical connection that features multiple contact points to safely improve connection and energy transfer.
Other products featured at the Stäubli booth include:
CombiTac modular connector system
Powerline single-pole connectors
Touch-protected Test & Measurement accessories
Slide-inline connectors for blind mating in rack applications
MULTILAM advanced contact technology
MD&M West is the largest showcase of medtech suppliers in the country and also features solutions across the advanced design and manufacturing supply chain. The expo is attended by engineers, executives, manufacturing and operations personnel, and R&D engineers looking for suppliers, new technologies and inspiration.
Stäubli provides innovative mechatronics solutions in the fields of electrical and fluid connectors, robotics and textile. Stäubli Electrical Connectors (formerly Multi-Contact USA) was established in 1982 and has been a part of the Stäubli Group since 2002. The Stäubli Group has more than 4,500 employees and a network of agents in more than 50 countries.
Visit www.staubli.com/electrical for more information on the company and products.
About Stäubli Electrical Connectors – North America
Stäubli Electrical Connectors – North America's headquarters is located in Windsor, California. Its product range includes interconnection systems for the most demanding applications in aerospace, medical, robotics, solar energy, general industry and test & measurement. Our plugs and sockets are designed for high performance, high mating cycles, low insertion and extraction forces, and are ideally suited for low- and high-current applications. We serve customers worldwide who aim to increase their industrial productivity without compromising quality, reliability or safety.
Stäubli is a global mechatronics solution provider with three core activities: Connectors, Robotics and Textile. We are an international group that currently operates in 29 countries, with agents in 50 countries on four continents. Our global workforce of 4,500 shares a commitment to partnering with customers in nearly every industry to provide comprehensive solutions with long-term support.