St. Augustine Preparatory Academy Selects Scranton Products' Duralife Lockers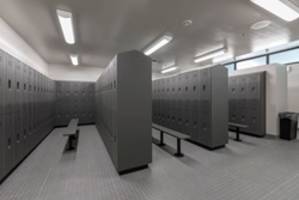 St. Augustine Prep school has selected Duralife lockers from Scranton Products for its pool and weight rooms. Located in Milwaukee, WI, the academy was specifically designed to provide low- and middle-income families with the latest amenities.
SCRANTON, PA. (PRWEB) OCTOBER 04, 2018 - St. Augustine Preparatory Academy located in Milwaukee, WI, has begun its second year dedicated to the academic and athletic excellence of 900 K4 -10th grade, in-need students representing Milwaukee's south side. Built with a donation from Gus Ramirez, chairman of Waukesha-based Husco International, the private school was specifically designed to provide low- and middle-income families with the latest amenities ranging from STEM labs, flexible classroom spaces and a health clinic to a natatorium complete with competitive swimming pools and Duralife lockers furnished by Scranton Products.
"The academy was designed to help students succeed in all aspects of life," explained Angela Ryun, interior designer at Korb + Associates Architects. "We toured schools nationwide to maximize the space that will one day hold nearly 2,000 students. Durability and aesthetics were essential for ensuring achievement and comfort in a physical environment that can be very demanding and difficult to maintain."
"Our mission is to provide the neediest in our community with the education they deserve," explains Kelsey Brenn, the Academy's CFO. "This included the design of a sleek, clean structure built for all grades.
"Scranton Product's Duralife lockers fit perfectly into this concept. Their intrinsically simple, sturdy design was ideal for our pool and weight rooms. They make little if any noise and are especially resistant to moisture, graffiti, and everyday wear and tear – all extremely important qualities when dealing each day with hundreds of 4- to 16-year-olds."
Made from HDPE, Scranton Products' Duralife Lockers naturally resist bacteria, odors, mold and mildew. Their non-porous surface is easy to clean, making them easy to wipe off graffiti with most non-abrasive cleaners or remove stickers and contact paper. The lockers can also be power washed and steam cleaned without the worry of rust or corrosion. In addition, Duralife Lockers are NFPA 286 compliant and GREENGUARD Gold Certified for improved indoor air quality.
To learn more about Scranton Products' Duralife lockers please visit http://www.scrantonproducts.com or call 800-445-5148.
About Scranton Products: 
With more than 30 years of experience, Scranton Products provides "Innovative Solutions for a Better Future," with innovative, creative designs that create a lasting impression. The industry leader in plastic bathroom partitions and lockers, Scranton Products bathroom partitions and lockers are constructed from premium, American-made solid plastic for unmatched durability that stands up to dents, scratches, corrosion, graffiti and mildew. When you purchase Scranton Products, you are investing in peace of mind. With endless design options and an array of designer colors and textures, Scranton Products installs confidence and elegant style in every project.
Contact Information
Maureen Murray
Scranton Products
http://www.scrantonproducts.com
+1 9739931570
More from Electrical Equipment & Systems