SST(TM) Installs First MRO Cold Spray System in Latin America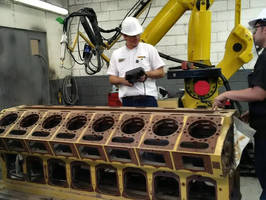 Windsor, Canada – CenterLine (Windsor) Limited's Supersonic Spray Technologies Division (SST™), recently commissioned its first SST Cold Spray installation in Latin America at Venequip SA.



VENEQUIP SA is a private Venezuelan company with eleven divisions across Venezuela dedicated to sales, service, maintenance and support of heavy equipment for the construction, petrochemical, mining, and energy segments. Venequip's Barquisimeto facility selected a portable SST Series P system for the repair and restoration of large cast iron diesel engine blocks.



As part of the implementation of this system, Venequip staff received extensive training over a four day period which covered cold spray fundamentals, safety procedures, calibration, equipment operation (manual and robotic), equipment maintenance, and powder storage handling.



Venequip invited some customers to witness the initial repair trials. All staffing that underwent training were presented with certificates of completion.



CenterLine (Windsor) Ltd is a recognized industry leader in the design, manufacture and supply of products and services that satisfy welding, metal forming and cold spray applications within the automotive, mass transit, aerospace and defense industries. With nearly 60 years in business, CenterLine is continuing to develop advanced technologies and processes that assist its customers in maintaining their competitive advantage. For more information please visit CenterLine's website at http://www.cntrline.com as well as the SST's website at http://www.supersonicspray.com.





More from Agricultural & Farming Products