SSD Systems offer automated storage tiering.
Press Release Summary: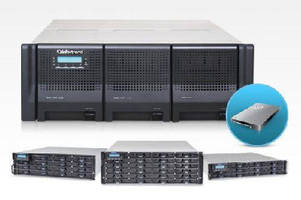 Supplied with hybrid 2.5 in./3.5 in. trays, ready for all-SSD storage, EonStor DS 3000T Systems feature automated storage tiering, which allocates data to most appropriate tier based on hotness. SSD wear level indication provides SSD health information to prepare for and perform data loss countermeasures such as replication, migration, and SSD replacement. With SSD Cache, customers can use SSDs as high-speed cache pool for read-intensive applications such as online transaction processing.
---
Original Press Release:

Infortrend Introduces New Generation EonStor DS 3000T with Comprehensive SSD Solutions



-- High performance turbo mode systems with all-SSD arrays, SSD Cache, automated storage tiering, and SSD wear detection



TAIPEI – Infortrend® (Public TPE: 2495) has announced new generation EonStor DS 3000T systems, with the T denoting turbo mode. Thanks to the Infortrend commitment to SSD solutions, EonStor DS 3000T models are designed for all-SSD storage and feature SSD Cache for boosting the performance of hot data. They also support multi-level automated storage tiering that allows better utilization of SSD speed and spin drive capacity, and SSD wear level indication for insight into SSD longevity. Combined, Infortrend features deliver better performance, greater efficiency, and longer-lasting drives.



EonStor DS 3000T systems ship with hybrid 2.5"/3.5" trays, ready for all-SSD storage. With SSD Cache, customers can use SSDs as a high speed cache pool for read-intensive applications such as online transaction processing (OLTP) to increase IOPS by 2.5 times compared to systems without the feature. To make the most of investment in SSD, automated storage tiering fully leverages SSD speeds and hard drive capacities, allocating data to the most appropriate tier based on hotness.



To protect SSDs and the data they store, EonStor DS 3000T systems offer SSD wear level indication that provides users with accurate SSD health information to better prepare for and perform data loss countermeasures such as replication, migration, and SSD replacement.



"Infortrend is ready for the move to SSD, which will gather momentum in 2015. And with new generation EonStor DS 3000T systems we offer an all-encompassing solution", commented Thomas Kao, Senior Director of Product Planning at Infortrend.



Learn more about the advantages of new generation EonStor DS 3000T systems with extensive SSD solutions here.



About Infortrend

Infortrend (Public TPE: 2495) has been developing and manufacturing storage solutions for businesses and organizations since 1993. Innovation joins impeccable quality thanks to a passionate team of professionals and an emphasis on in-house design, testing, and manufacturing. Infortrend storage delivers performance and scalability with the latest standards, backed by user friendly data services, personal after-sales support, and unmatched value. Core product families are EonStor DS, EonNAS, and ESVA. For more Information, please visit www.infortrend.com.



Infortrend®, EonStor®, EonNAS®, and ESVA® are trademarks or registered trademarks of Infortrend Technology, Inc., other trademarks property of their respective owners.



Infortrend Europe Ltd.

Rina Lin

Tel:+44-1256-305-220

E-mail: marketing.eu@infortrend.com

More from Services