SS-LED Bi-Level offers energy savings capabilities.
Press Release Summary: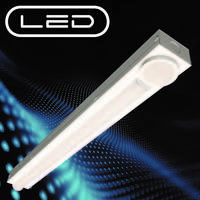 Featuring passive infrared sensors, LaMar's SS-LED Luminaire is an energy saving, low cost bi-level light. As sensors detect motion lights can switch from one quarter lighting to full, or from
off to on. Since sensors are infrared, lights only switch on when people are actually in their 360 degree detection fields, instead of nearby. Products are designed to last long with little
maintenance and come with time delays, daylight sensors, backup batteries, and different lens types for custom light coverage.
---
Original Press Release:
LaMar Introduces New Automatic Bi-Level LED Luminaire: Infrared Sensing Unit Designed for Cost-Sensitive Applications
Farmingdale, NY, August 3, 2017 –LaMar Lighting has introduced its Model SS-LED Luminaire, a new lower-cost bi-level lighting fixture designed to reduce energy consumption when lighting infrequently used corridors, stairwells, closets and similar areas.
Featuring an internally mounted passive infrared motion sensor, this multi-purpose Bi-Level LED utility luminaire is available in nominal two- or four-foot lengths, and is designed to provide energy savings, security and safety by operating at low standby light levels of 25% when an area is unoccupied; automatically activating to full output when motion is detected.
According to LaMar Lighting CEO Jeff Goldstein, "While infrared has its limitations when compared to our premium ultrasonic technology, we have been seeing demand for a more budget-oriented bi-level lighting fixture for some applications, so we developed this product to help offer the key benefits of bi-level lighting to satisfy our customers' needs, while offering a lower price point.
Typically mounted on ceilings and walls and capable of detecting motion in a 360-degree area, passive infrared (PIR) sensors detect emitted infrared energy from people in the form of heat. A person moving within the detection range of the PIR sensor triggers the light to full-power. Unlike ultrasonic sensors which can effectively detect around corners by detecting air movement from occupants walking, PIR sensors require the object to be within the sensor's line-of-sight. "Ultrasonic sensors generally provide earlier and more sensitive detection in the sense that a person turning a corner will be entering a fully lighted area, whereas with infrared, full illumination of an area does not occur until the person steps into the visible range of the sensor. However, for many applications where the delay in full lighting is not impactful the SS-LED offers a lower-cost alternative," said Goldstein
Designed to be a long-lasting, low-maintenance luminaire, units are standard with low glare diffuser and a standard color temperature of 5000K, with 3000k, 3500K and 4000K options available. Motion sensor options include 2-circuit (bi-level 25% dim) or on/off choice. Sensors feature field-adjustable time delays and are available with optional battery back-up, ambient light sensor for daylight holdoff and a choice of lens patterns to allow for customizing coverage areas. UL-listed and IBEW union-made, universal voltage of 120-277V is standard. All electrical components carry a five-year warranty.
PRESS CONTACTS:
Charles Wintrub
Catalyst Marketing Communications, Inc.
(203) 348-7541        
About LaMar Lighting Company
Founded in 1957 on Long Island, New York, LaMar Lighting is the pioneer in motion sensor bi-level lighting technology with its occu-smart® line of controlled lighting. It is also the resource for an extensive selection of cost-effective fluorescent and LED lighting equipment and custom designs. Made primarily in the USA, LaMar's comprehensive product line includes architectural suspended and recessed direct/indirect luminaires and occu-smart line of energy-saving fixtures as well as a full range of commercial, industrial, institutional and residential lighting. A dedicated team of designers, engineers and lighting specialists with more than 60 years of combined experience delivers custom solutions tailoring lighting to fit the needs of any application. To learn more about LaMar Lighting, visit www.lamarlighting.com. For more information about occu-smart line of motion sensor controlled bi-level lighting, go to www.occu-smart.com.