SRS Dives for a Solution and Delivers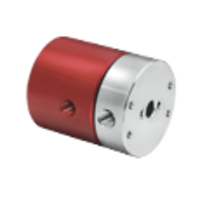 Meeting challenging requirements, SRS's rotary union was designed to integrate directly into a submersible vehicle designated to remove heavy barnacle build-up from underwater surfaces of ships and offshore platforms.
The rotary union is a key component in the steering linkage and supplies 3,000 PSI hydraulic fluid to power the motor on the all-wheel drive system that directs the vessel about the ship or platform.
SRS's rotary union technology eliminates hoses from twisting and flexing as the steering gear rotates; therefore, improving the life of those interconnects.
"With close communication and trust, our team was ready and willing to adjust the design to accommodate for the customer's design improvements while the new vessel was being developed," said SRS Engineering Manager Bob Kwiatkowski.
The final custom solution leveraged SRS's sealing technology, experience, and flexibility to meet all requirements needed to launch its first trial off the coast of Southeast Africa near Madagascar.
SRS - Scott Rotary Seals
301 Franklin St.
Olean NY 14760
Phone: 716-376-0708
Contact:
Crystal Wiech
email: sales@scottrotaryseals.com
More from Electronic Components & Devices