Square Core Optical Fibers suit material processing/astronomy.
Press Release Summary: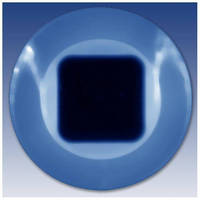 Non-circular core silica optical fibers offer good image scrambling and low focal ratio degradation to improve image processing. When used with diode lasers that give square-shaped output, fibers provide homogeneous power distribution on output end. Square output beam reduces need for beam shaping optics. Products are available with square cores with edge lengths from 50-1,000 microns and wavelengths from deep UV to NIR.
---
Original Press Release:

CeramOptec Introduces Non-Circular Core Silica Optical Fibers



East Longmeadow, MA - CeramOptec Industries, Inc., a worldwide leader in the manufacture of specialty optical fibers, bundles and assemblies, has introduced non-circular core silica optical fibers for use in applications including material processing and astronomy.

In astronomy a star is tracked over time with the spectrum being transmitted to a spectrometer. A square fiber offers a more stable means of transmission than that of a circular core fiber as the spatial power distribution is more constant. Good image scrambling is characteristic of the square core fiber and together with its low focal ratio degradation (FRD) improves image processing making them ideal for astronomy applications.

When used with diode lasers which give a square-shaped output, the square core fibers offer greater coupling efficiencies and a very homogeneous power distribution on the output end. In laser applications such as surface pre-treatment, materials can be processed in a more uniform fashion than is possible with a circular beam due to less overlapping. The square output beam reduces the need for beam shaping optics.

CeramOptec's non-circular core silica optical fibers are available with square cores with edge lengths from 50 to 1000 microns in NA's from 0.12 to 0.37 and wavelengths from deep UV to NIR. Other shapes are available upon request.

About CeramOptec GmbH:

CeramOptec is a world leader in the production of specialty optical fiber and fiber optic-based products for industrial, scientific, medical, and dental applications. CeramOptec manufactures high quality specialty optical fiber, bundles, and spectroscopic accessories with unmatched delivery times.

CeramOptec produces stock and custom silica, silica, plastic-clad silica, and hard polymer-clad silica optical fibers; fused capillary tubing; DPSS lasers; diode modules; and low loss bundles and assemblies for UV, VIS, and IR transmission, medical laser delivery, sensors, plasma fusion, and spectroscopy.

Company Contact (US):

Cheryl Provost

Industrial/Scientific Sales Engineer

CeramOptec Industries

515A Shaker Road

East Longmeadow, MA 01028

Ph: (860) 747-4487

Fax: (860) 793-4909

Toll Free: (800) 321-0790

cheryl.provost@ceramoptec.com

Lion Associates Inc. | 550 Mamaroneck Avenue | Suite 211 | Harrison | NY | 10520

More from Controls & Controllers