SPST-NO Solid-State Relays suit portable and remote equipment.
Press Release Summary: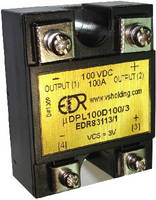 With ultra-low input current consumption of 600 µA at 2.6 V, µPDL100D100/3 1-Form-A Solid State Relays are suited for interfacing portable and remote equipment to high current loads. Units are available for input voltages from 2.6–5 V or 3.6–36 V, and depending on model and control voltage, devices can switch at rate of several KHz. Housed in Hockey Puck package, relays integrate MOSFET gate driver and frequency-pulse modulated oscillator for converging DC control.
---
Original Press Release:

EDR Inc/VSholding LLC Extended Family of Low-controlling Power SSRs with Introduction of PDL- family of SPST-NO Devices to Its RDM- family of SPST-NC



Louisville, KY, USA, Electronic Design & Research Inc started shipping µPDL100D100/3, 1 Form A (SPST-NO) Solid-State Relay. It's ideal for interfacing portable and remote equipment to high current loads because of an ultra-low input current consumption of only 600µA at 2.6V. Relays are offered with either "/1" suffix for input voltages from 2.6V to 5V and with "/7" for a wide input control from 3.6V to 36V. Depending on the model and control voltage, devices can switch at a rate of several KHz, thus allowing them to be used beside as relays for proportional control, data acquisition and sampling functions.



The µPDLs made are rated at various voltages/currents of up at 140A and up to 1,500VDC, which are the highest in the industry in a standard "Hockey Puck" package. Devices integrate a number of innovations such as a low leakage (50nA) but a powerful MOSFET gate driver (2.8A) having fast rising and falling slopes, a frequency-pulse modulated oscillator for converging a DC control thus allowing optimized current consumption, etc.



Both µSPST-NO and µSPST-NC relays are offered for AC/DC and DC only output voltages. The cost depends on the device and quantity, for example, µDPL100D50, SPST-NO a relay rated at 100 VDC & 50A rms costs $98.21ea/10,  HTTP://WWW.VSHOLDING.COM/DATASHEETS/7722%20UDPL%20SPST-NO.PDF



For more information visit www.vsholding.com or send e-mail to info@vsholding.com



Electronic Design & Research Inc, a Unit of VS Holding LLC, has been the world's innovative leader in manufacturing solid-state switching products for nearly 15 years. The company's comprehensive product line of SSR, SPDT drivers, H-Drivers, Super-High Power Switching Systems, Security Modules, Fog-Bulb relays, Super-Fast High-Voltage Switches, and many more meets a wide range of requirements for industrial, commercial, military and aerospace uses worldwide.



Vladimir A Shvartsman

V_shvartsman@vsholding.com

Phone: (502) 933-8660

Fax: (502) 933-3422

More from Machinery & Machining Tools