Sprue Grippers feature fully elastomer coated jaws.
Press Release Summary: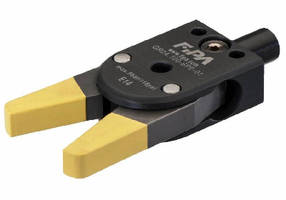 Designed to gently grip workpieces to prevent surface of even delicate materials from scratching, 100 Series is suited for removing workpieces from injection molding machines. Made of high-strength anodized aluminum alloy, grippers feature gap-free jaws that are completely coated with hydrogenated nitrile butadiene rubber on all sides. Single-acting units have 10 mm clamping diameter, operating pressure from 250–800 kPa, and closing force of 22 N at 600 kPa.
---
Original Press Release:

FIPA Introduces the Industry's First Sprue Grippers with Fully Elastomer Coated Jaws



Ideal for use with injection molding machines, the new 100 Series grippers feature high closing force, wide opening, & gap-free jaws completely coated with HNBR, enabling the gentle handling of workpieces with maximum reliability



CARY, N.C. — FIPA Inc., a leading manufacturer of advanced vacuum technology, gripper systems, air nippers, and End-of-Arm-Tooling (EOAT), has introduced the industry's first sprue gripper with fully elastomer-coated jaws. An extension of its 100 Series, which also introduced the industry's first gripper with elastomer coating on the inner jaws, the new, technically optimized GR04.100-HNBR gripper gently grips workpieces, preventing the surface of even delicate materials from scratching, which makes it ideal for removing workpieces from injection molding machines.



Featuring high closing force, wide opening, and gap-free gripper jaws that enable the secure handling of both large and thin workpieces, the new 100 Series grippers are made of high-strength anodized aluminum alloy and feature jaws completely coated with HNBR (hydrogenated nitrile butadiene rubber) on all sides, enabling the gentle handling of workpieces with maximum reliability. Absent of any paint-wetting impairment substances, the grippers' HNBR elastomer coating does not leave any markings behind that could prevent the successful painting or coating of the plastic parts they come into contact with.



"The new elastomer-coated grippers further enhance our portfolio of components designed for removing workpieces from injection molding machines by enabling the removal of complexly shaped parts, with cavities and curvatures near the sprue, from damage, and subsequently reducing scrap that occurs as a result of accidental contact between the gripper and the workpiece," said Rainer Mehrer, president of FIPA.



Intended for use in filtered and oiled or unoiled air, the new single-acting 100 Series gripper with elastomer coated jaws weigh 1.69oz (48g) and have a 10mm clamping diameter. Operating pressure spans 250 to 800kPa (2.5 to 8 bar), and the closing force at 600kPa (6 bar) is 22N.



Other grippers in the 100 Series include medium sized grippers for adapting to customized, interchangeable jaws, grippers with HNBR padded inner jaws, and grippers with and without sensors, all of which have a 10mm clamping diameter.



For more information about FIPA's new 100 Series grippers with completely elastomer coated jaws, please visit http://www.fipa.com/en_US/media/2321234/1025-BDS_FIPA-GR04.100-HNBR-Greifzangen_en_USmetric.pdf?download&track  to download the product datasheet. For more information about FIPA's complete line of sprue grippers, including the other 100 Series components, please visit http://www.fipa.com/en_US/products/208048-grippers/25/1.  For all other inquiries, please visit http://www.fipa.com, call 919-651-9888, or write to 1855 Evans Road, Cary, NC 27513.



About FIPA, Inc.

Founded in 2006 as a fully owned subsidiary of FIPA GmbH, FIPA Inc. is an international innovator and manufacturer of advanced vacuum technology, gripper systems, air nippers, and End-of-Arm-Tooling (EOAT) for automated assembly equipment, material handling systems, and hoists, such as tube lifters. Spanning components to complete systems, FIPA's products are broadly employed in applications ranging from packaging, automotive assembly, and manufacturing automation equipment to material handling systems designed to move plastics, metals, glass, wood products, and, for printing equipment, paper and films. FIPA also delivers flexible, dynamic solutions on short lead times, and provides superior service and technical support.



Founded in 1985 and headquartered in Ismaning, Germany, FIPA GmbH has steadily expanded its global presence in recent years, adding representations in the United States, Thailand, Poland, Hungary, and Turkey. For more information about FIPA's products, services, and news, please visit http://www.fipa.com.



For more information, please contact:

Jennifer Gerdhenrichs, Manager

International Marketing Communication

FIPA Group

0049-89-962-4890

jgerdhenrichs@fipa.com

More from Electronic Components & Devices