Spring Loaded Casters are optimized for shock absorption.
Press Release Summary: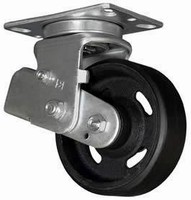 Featuring springs encapsulated and protected by urethane block, Spring Loaded Casters are offered in swivel and rigid styles with 5 or 6 in. wheel dia and 2 in. tread width. Construction includes hardened double ball swivel raceways, with welded-on legs of ¼ in. thick cold forged steel. Top plate is made of same material as legs, and there are 15 different wheel and bearing variations available. Zerk grease fittings are standard in swivel raceway, on axle, and on most wheel hubs.
---
Original Press Release:

New Configurations of Spring Loaded Casters Unveiled from Durable USA



Durable's spring loaded casters are able to absorb the toughest shocks of the workplace. New configurations of spring loaded casters improve flexibility and tailor spring loaded casters to specific applications.

Spring Loaded Casters offer exceptional shock absorbing characteristics. Springs are encapsulated & protected by a Urethane Block. Swivel & Rigid Casters available in 5" & 6" wheel diameters x 2" tread width. Hardened double ball swivel raceway construction, extends the life of the caster. Top plate & legs are made from 1/4" thick cold forged steel. Legs are welded to the raceway.

- Heavy 5/8" nut & bolt kingpin.
- 1/2" Axle with lock nut.

Zerk grease fittings are standard both in the swivel raceway, on the axle and on most of the wheel hubs. There are over 15 different wheel and bearing variations and to choose from.

- Fasteners: Standard 4-1/2" x 6-1/4" Top Plate.

Unique casters for specific applications and industries requiring either a firm brake (Total Lock) or cushioned ride for protection from shock and vibration (Spring Loaded) Ideal for Diagnostic & electrical equipment, Institutional & laboratory equipment & stands, medical equipment & carts, mobile workstations, computer main frames & towers, point of purchase displays & shelving, food processing equipment, packaging equipment, sound and lighting equipment, ground support equipment, assembly line dollies, mobile storage racks & many other light to heavy duty applications.

http://catalog.durableusa.com/CategoryListView.aspx?id=9

More from Controls & Controllers