Spring-Loaded Ball Transfers have self-adjusting design.
Press Release Summary: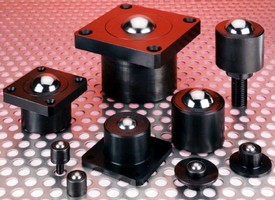 SKF® Hevi-Load spring-loaded ball transfer units are engineered to reduce damage caused by shock loads, allow for dimension changes due to temperature, and self-adjust for even load distribution. Recirculating ball system offers capability to handle load capacities to 4,400 lb, with ball either up or down. It employs 12.7-50.8 mm dia load ball that rotates on bed of small balls supported on hardened steel, precision-machined table load pad.
---
Original Press Release:
Designed with Recirculating Ball System: SKF® 'Hevi-Load' Spring-Loaded Ball Transfers Self-Adjust in Load-Transfer Applications
SKF® "Hevi-Load" spring-loaded ball transfer units for load-transfer applications have been engineered to reduce damage caused by shock loads, allow for dimension changes due to temperature, and self-adjust for even load distribution. Their recirculating ball system offers the capability to handle extremely high load capacities with ball either up or down. Applications include shearing machines, presses, molding machines, tool bases, and press brakes, among others. The unique recirculating ball system features a load ball (12.7mm to 50.8mm in diameter) rotating on a bed of small balls supported on a hardened steel, precision-machined table load pad. Resulting load capacities up to 4400 lbs. can be achieved, depending on type. Units integrate flanges and threads to promote easy mounting and drain holes or grease points can be specified. Stainless steel units are available upon request. All can perform at maximum capacity in temperatures from -22ºF to 212ºF. Custom ball transfer units can be developed to satisfy particular application requirements. Contact Kody T. Fedorcha, SKF USA Inc., 1530 Valley Center Parkway, Bethlehem, PA 18017-2266. Phones: 800-541-3624 (toll-free) or 610-861-3733. Fax: 610-861-3737. Web site: http://www.skfusa.com/balltransfers
More from Materials