Spring Contact Pins minimize component wear.
Press Release Summary: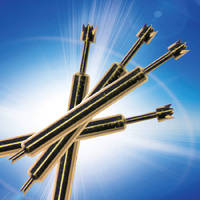 Suited for semiconductor and sensor testing, Spring Probe Pins consist of mobile plunger, cylindrical housing or barrel, and spring contained within it. Units establish contact to IC packages such as QFP, BGA, QFN, and LGA with pitch from 0.3-2.54 mm. They offer typical contact forces of 25 gf, working temperature of -40 to +150°C, and contact resistance of less than 50 mW. Pins can be fabricated from different materials to meet electrical and mechanical requirements.
---
Original Press Release:

Reliable Spring Probe Pins Reduce Component Wear



Munich, March 2009 - The latest in the extensive product line of high-end test contactors, PCBs and burn-in sockets offered by Yamaichi Electronics is now individual spring contact pins, so-called "spring probe pins". Besides semiconductor and sensor testing, they can also be used in other areas, such as medical/space, application testing, failure analysis, programming, and burn-in (HAST/THB).

The task of the spring probe pin is to establish reliable contact to different IC packages such as QFP, BGA, QFN, LGA, and other semiconductor components with a pitch from 0.3 mm (ultra-low pitch) to 2.54 mm. Other possible applications are wafer-level contacting, as well as applications in board-to-board connectors and PCB testing.

Highest possible contact reliability

The spring probe pin contact mechanism uses the concept of the spring contact. This contact pin combines guaranteed excellent mechanical and electrical characteristics:

1. Durable stable contact design with simultaneous lowest mechanical contact wear, i.e. no degradation of the contact force as well as minimised contact movement on the IC component or PCB contact pad.

2. Reliably low contact resistance (< 50 mW), even with differing surfaces.

Spring probe pins consist of a mobile plunger, the cylindrical housing or barrel, and the spring contained within it. The design of the tip is available in different tip styles. There are convex (spherical), conical, and crown-shaped plunger variants available. The upper and lower plunger geometry can also be combined in different ways if needed. There are also variants with only one movable plunger. Different spring contact pin lengths (min. 1.0 mm) and barrel diameters are available. The smallest diameter available is a mere 0.1 mm.

Depending on customer requirements, the pins can be fabricated from different materials in order to meet both electrical and mechanical requirements. The portfolio covers contact cycle lifetimes of >500k, typical contact forces of 25gf, working temperature ranges of -40°C to +150°C, and a stable, low contact resistance of <50 mW.

There are already about 20 different standard types ready and waiting in our Munich warehouse. The minimum order quantity is 100 units. Other versions are available upon request.

www.yamaichi.eu/probe-pins

Contact for product enquiries: info@yamaichi.de

Please direct questions regarding editing and press relations to Franz Rosenberger, franz.r@yamaichi.de

About Yamaichi Electronics

Yamaichi is a market leader for test & burn-in sockets, connectors and connection systems - areas in which reliability and function safety are essential for the success of the whole project. Yamaichi has established itself very quickly on the world market as a manufacturer of high-quality and reliable components for ambitious applications in the following sectors: telecommunications infrastructure, industrial automation, mobile computer technology, mobile telephones, GPS systems, printers, digital cameras, camcorders, as well as electronic devices in the retail trade, industry and electronics.

Yamaichi Electronics Deutschland GmbH

Karl-Schmid-Str. 9, 81829 Munchen, Germany

Tel. +49 (0)89 - 4 51 09-0

Fax: +49 (0)89 - 4 51 09-110

www.yamaichi.eu

More from Electrical Equipment & Systems