Spring Clamps enable wiring without tools.
Press Release Summary: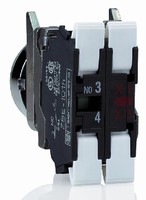 Providing secure, vibration-resistant connections for 22 mm XB4 and XB5 push buttons, Harmony® Spring Clamps accept stranded or solid wires, with or without cable ends, and different wire sizes. Units prevent wires from hitting screws and clamping on insulation. Upon installation, lever position provides visual indication of secure connection. Conforming to CE marking requirements, clamps are RoHS-compliant, UL and CSA listed, and meet IEC and EN standards.
---
Original Press Release:

New Schneider Electric 22mm Spring Clamps Offer Efficiency, Reduced Installation Time



Palatine, Ill. (USA), August 21, 2008 - Expanding the variety of connection methods available for the 22mm XB4 and XB5 push buttons, Schneider Electric once again responds to the needs of end users and OEMs looking for quick and reliable start-up by offering the new Harmony® spring clamp contacts and light modules. Built for efficiency and reduced installation time, the Harmony spring clamps reduce wiring time by 66 percent compared with screw clamps, providing significant labor savings and eliminating the need for tools.

"With its new design, the Harmony spring clamp from Schneider Electric is the only contact block and light module on the market that is wired without the use of a tool," says Larry Sunday, product marketing manager for Schneider Electric. "The spring clamp maximizes installation simplicity while providing secure connections with excellent vibration resistance."

In addition, the Harmony spring clamps are so simple and intuitive to operate that no instructions are needed. Upon installation, the lever position provides visual indication of a secure connection. Wire guides make wire insertion simple, and the spring clamps allow users to wire up to six wires in the same time it takes to wire two with a screw clamp connection. The spring clamp also accepts stranded or solid wires, with or without cable ends, and different wire sizes. In addition, it prevents wires from hitting screws and clamping on insulation.

The Harmony spring clamps maintain their clamping force despite vibration, temperature cycling and settling of strands, reducing downtime and maintenance. Screw clamps on the other hand, require re-torquing to ensure a secure connection.

The Harmony spring clamps conform to CE marking requirements, are UL and CSA listed, and meet IEC and EN standards. The product also is manufactured to meet the requirements of the RoHs (Restriction of Hazardous Substances) European Directive.

For more information on the new Harmony spring clamp or other automation and control products from Schneider Electric, call 1-800-392-8781 or visit www.us.schneider-electric.com.

About Schneider Electric

Schneider Electric total sales in North America in 2007 were $6.6 billion (U.S.). These include the sales of the North American Operating Division of Schneider Electric (NAOD), as well as North American sales of other Schneider Electric brands such as APC, TAC, etc. Headquartered in Palatine, Ill., the North American Operating Division markets many of the brands of Schneider Electric to customers in the United States, Canada and Mexico. In the United States, Schneider Electric is best known by its flagship Square D® brand. Schneider Electric, the global specialist in energy management, offers integrated solutions making energy safer, more reliable, efficient and productive in the energy & infrastructure, industry, data centers & networks, buildings and residential markets. With sales of $23.7 billion in 2007, the company's 120,000 employees in 102 countries help individuals & organizations make the most of their energy. Visit Schneider Electric on the Internet at:

Corporate and Schneider Electric Products - www.us.schneider-electric.com
Square D Products - us.squared.com

More from Test & Measurement