Spray Paint allows touch up at anytime.
Press Release Summary: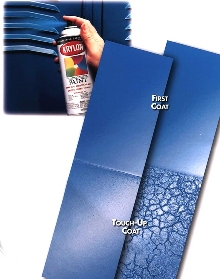 Krylon® Interior/Exterior aerosol paint dries to touch in 12 min at 70°F and 50% humidity, and has no time window for touch ups. Second coat can also be applied at any time. It meets 2002 C.L.E.A.R. (California Low-Emissions And Reactivity Regulation For Aerosol Coating Products). Paint is available in 129 colors and finishes.
---
Original Press Release:
Aerosol Paint Allows Touch-Up Anytime

Unlike Other Aerosol Paints, It Does Not Have A Touch-Up "Time Window"

Krylon® Interior/Exterior Paint has an exclusive touch-up anytime feature for foolproof performance, even with inexperienced, impatient painters.

Other paints have a touch-up "time window": you must do retouching within one hour or wait until the paint is cured (usually three days). If a touch-up is attempted between these times, the paint can wrinkle, crack or lift, ruining the entire paint job.

Krylon Interior/Exterior Paint dries to the touch in 12 minutes (at 70°F and 50% humidity), making it perfect for touch-ups on industrial equipment that cannot have prolonged downtime.

The paint is the first to meet 2002 C.L.E.A.R. (California Low- Emissions And Reactivity Regulation For Aerosol Coating Products). Sherwin-Williams' extensive R&D efforts allowed it to meet California's trend-setting standard ahead of time, making compliance easier for industrial end-users.

Independent lab tests prove the Krylon Interior/Exterior Paint has 6 to 21 times the gloss retention of other paints that claim to be equivalent. (Gloss retention is a key indicator of paint quality and durability.) Krylon Interior/Exterior Paint has the largest color and finish selection in the industry: 129 colors and finishes to choose from.

For additional information, contact Diversified Brands, A Division of The Sherwin-Williams Company, Tel: 800-925-3434, Fax: 614-294-2956 www.krylonindustrial.com
More from Thermal & Heating Equipment