Spray Nozzles coat, cool, treat, and paint in tight spaces.
Press Release Summary: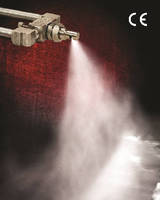 Featuring stainless steel construction for corrosion resistance, ¼ NPT Spray Nozzles atomize fluid and spray at right angle to nozzle orientation, allowing spray to be placed precisely where it is needed when mounting and work areas are limited. Internal mix, deflected flat fan nozzles combine liquid and compressed air inside of air cap to produce fine mist that can be adjusted to meet needs of application. Nozzles handle liquids with viscosities up to 300 cP and provide flows from 1.8–6.9 gph.
---
Original Press Release:

Spray Nozzle Coats, Cools, Treats and Paints in Tight Spaces



EXAIR's 1/4 NPT internal mix deflected flat fan atomizing spray nozzle atomizes fluid and sprays at a right angle to the nozzle orientation. This allows spray to be placed precisely where it is needed when the mounting and work areas are limited. These nozzles are ideal for coating the inside of enclosures and ductwork. They combine liquid and compressed air inside of the air cap to produce the finest mist of atomized liquid that can be easily adjusted to meet the needs of your application. These spray nozzles provide liquid flows from 1.8 to 6.9 gallons per hour.



With EXAIR's atomizing nozzles, you can coat, cool, treat and paint a variety of products using compressed air and liquids with a viscosity of up to 300 centipoise. They are commonly used with water, light oils, rust inhibitors, chemicals, paints and dyes. 



The stainless steel construction of these atomizing nozzles adds to their durability and corrosion resistance. EXAIR atomizing nozzles are available with 1/4 NPT and 1/2 NPT connections and in a variety of sizes and shapes to meet your needs. All models are adjustable, come with our 5 year Built to Last Warranty and are CE compliant. Internal mix deflected flat fan spray nozzles start at $187.



For more information contact: EXAIR Corporation

11510 Goldcoast Dr.

Cincinnati, OH  45249-1621

Phone: (800) 903-9247

Fax: (513) 671-3363

E-mail: techelp@exair.com

www.exair.com/smad.htm

More from Electronic Components & Devices