Spray Gun handles vinyl ester and polyester formulations.
Press Release Summary: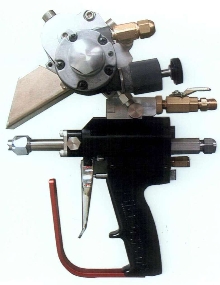 Designed for application demands of formulations used in FRP industry, Formula gun employs ergonomic and balanced design with double air piston. Multi-port impingement produces minimal styrene emissions. Engineered with hardened valves, gun can dispense heavy filled materials at high volume while maintaining accurate, controlled spray pattern.
---
Original Press Release:
Glascraft, Inc. Debuts Their New Formula For Success

July 15, 2005 - Indianapolis, Indiana - GlasCraft, Inc. has been the leading global manufacturer and marketer of plural component dispensing systems, parts and services since 1959. From this pioneering start, GlasCraft has designed, produced and marketed industry leading machines that meter, mix and dispense for the FRP industry including RTM and open-mold applications. Today, GlasCraft announced another key component to their state-of-the-art dispensing systems, the phenomenal new Formula gun.

Mr. Steve DeReu, Corporate Marketing Manager, commented that the new Formula gun was specifically designed for the challenging application demands of the high performance vinyl ester and polyester formulations so widely used in the FRP industry. Incorporating the well known GlasCraft trademark of "ergonomic and balanced lightweight design", the Formula gun has a more powerful patented double air piston. The patented multi-port impingement has been tested to produce the lowest levels of styrene emissions. Engineered with special hardened valves, the Formula gun can easily and reliably dispense heavy filled materials at high volume while maintaining an accurate and controlled spray pattern. Utilizing breakthrough technology, the Formula gun continues the GlasCraft tradition of excellence in dispensing solutions.

For decades, GlasCraft, Inc. has served as a leading designer and manufacturer of equipment and technology for the dynamic plural component industries. GlasCraft produces a full line of metering, mixing, spraying and dispensing systems and aggressively pursues new product development, providing the industry with environmentally responsible equipment that is compatible with current and evolving materials. GlasCraft strives to be the industry front-runner, delivering the highest quality products, unparalleled service excellence and world class solutions to the global marketplace. For more information, contact GlasCraft, Inc. at 317-875-5592, sales@glascraft.com or visit our website at www.glascraft.com