Spray Gun employs jet impingement atomization.
Press Release Summary: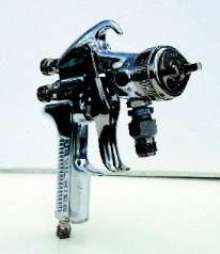 Model VTX Spray Gun uses 3-stage process that hydraulically pre-atomizes stains, creating a vortex; forms hollow fluid bulb; and then finely atomizes stain with 2000 air cap and baffle combination. Impingement orifice provides wood finishing professional with 99% consistent color repeatability, virtual elimination of haloing, and reduction in extent and degree of mottling. Spray Gun is suited for non-grain raising, release, dye, and toner stain applications.
---
Original Press Release:
Devilbiss VTX Spray Gun Employs Jet Impingement Atomization to Perfect Wood Finishing Spray Application

June, 2004, Glendale Heights ­ The DeVilbiss new VTX Spray Gun is the first to employ Jet Impingement Atomization (JIA) to revolutionize NGR wood finishing stain application. This method significantly improves pattern coverage uniformity, color consistency, and process capability, while significantly reducing mottling and haloing, resulting in a marked reduction in rework.

The VTX Spray Gun has been specifically designed for NGR (Non-Grain Raising), Release, Dye and Toner Stain applications. This gun features an "impingement orifice" (patent pending) that provides the wood finishing professional with:

- a dramatic reduction in the extent and degree of mottling

- 99% consistent color repeatability and match, as compared with competitive equipment of 76 ­ 88%

- virtual elimination of haloing

- reduced aircap atomization pressures

- reduced material consumption

The DeVilbiss VTX, the first spray gun using "Jet Impingement Atomization" technology, accommodates a 3-stage process that: hydraulically pre-atomizes the stain, creating a vortex; forms a hollow fluid bulb; and then finely atomizes the stain with a 2000 air cap and baffle combination. This process provides the most consistent and uniform spray patterns available for NGR stains, along with enhanced process control capability, reduced overspray, and improved production efficiency, along with one-stage set up and less scrap generation.

The DeVilbiss VTX spray gun will be featured at the DeVilbiss Exhibit Booth (Booth 2325) during the August 26-29, 2004 International Woodworking Machinery & Furniture Fair (IWF).

Paul Micheli, Senior Product Development Engineer for DeVilbiss Spraying Systems, has authored a research paper entitled Spray Atomization Improvement Through the Use of the Internal Jet Impingement Technology, which is available upon request (see contact above).

Finding innovative solutions to spray finishing problems has been the philosophy of DeVilbiss for over 100 years. For further information about the VTX Spray Gun or other DeVilbiss spray finishing products, please call Customer Service at 1.800.992.4657 or visit the DeVilbiss website at www.devilbiss.com.