Spray Coat Compound protects wood structures against fires.
Press Release Summary: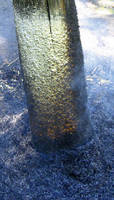 Requiring minimal surface preparation, Blaze Fighter® protects wood utility poles and other wood structures against damage by slow-moving grass and brush fires. This intumescing compound, supplied in self-contained twin disposable cartridges, is dispensed through compressed air-driven gun; partially used cartridges can be sealed for later use. Poles protected by Blaze Fighter remain climbable by linesmen who have to carry out subsequent service.
---
Original Press Release:

New Intumescing Spray Coat Compound



Crosslink Technology Inc. announced the release of its new intumescing spray coat compound developed for the protection of wood utility poles and other wood structures ainst damage by slow moving grass and brush fires.

The product is marketed under the Blaze Fighter® registered trade mark and is now available for delivery in February 2009.

Blaze Fighter® is an easy to apply, fast-acting compound requiring minimal surface preparation.

The product is supplied in self-contained twin disposable cartridges and dispensed through a compressed air driven dispense gun.

Partially used cartridges can be sealed for later use.

Complete starter kits including the dispense gun as well as replacement cartridges are now available for purchase.

Based on internal testing, this intumescing protective coating was successful in preventing damage to wood utility poles for up to 20 minutes of intense, uninterrupted grass fires. A hydro pole protected by the Blaze Fighter® remains gaffable (climbable) by linesmen having to carry out subsequent service.

This product is of particular interest to electric utility, telephone and railway companies as well as individuals who wish to protect wood structures located in areas where there is a possibility for damage by grass or brush fires.

Ph: 905.673.0510, Toll free: 800.563.3769, Fax: 905.673.0519
Web site: www.crosslinktech.com E-mail: info@crosslinktech.com

More from Electronic Components & Devices