Spray Applicator upgrades automatic gun systems.
Press Release Summary: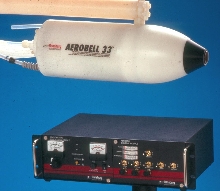 Aerobell 33 9040 system has rotary atomizer with radial fluid manifold, quick-change fluid valves, control unit, and quick-change turbine. Compact package is suitable for single bell/single power supply applications requiring minimal space, or upgrading of automatic gun systems.
---
Original Press Release:
High Speed Applicator at a Value Added, Affordable Price

The Aerobell 33 9040 System from ITW Ransburg is a compact rotary atomizer bell package designed specifically for single bell/single power supply applications where high quality and high speeds are required utilizing minimal space. Unique and modular in design, the Aerobell 33 9040 consists of an Aerobell 33 Rotary Atomizer and compact 9040 Control Unit.

Maximum operating life and minimal downtime is ensured with the Aerobell's precision-designed, quick-change turbine. Easy set up and installation are among the many advantages of the Aerobell 33 9040 system along with better uniformity and atomization, higher transfer efficiency, lower emissions, lower particle velocity and softer spray patterns.

Servicing and maintenance is fast and easy due to the modular construction of the Aerobell 33 9040, with its unique radial fluid manifold, and internal quick-change fluid valves. This high-speed applicator is ideal for many applications including those requiring the need of a single bell system, the upgrading of automatic gun systems, applications with limited space, small plants looking to upgrade technology and many more.

Ransburg Electrostatic Systems, an Illinois Tool Works Company, offers a variety of finishing products and systems, including electrostatic systems, electrostatic HVLP systems, automatic sprayguns, disk and bells, gun reciprocators, closed-loop fluid control systems, and system parts and accessories. Harold Ransburg first experimented with paint charging and surface grounding technologies in the 1930s, and patented the revolutionary electrostatic finishing process in 1941. Today, ITW Ransburg remains an industry innovator and serves the global liquid electrostatic spray-finishing marketplace from their headquarters in Toledo, Ohio.

To request a full-color brochure on our "Aerobell 33 9040 System" write Ransburg at 320 Phillips Avenue, Toledo, OH 43612. You may also call Ransburg at 1-800-909-6886 or fax in your request to 1-800-949-6886.


More from Material Handling & Storage