Spot Repair Resin Rescues Porous of Cracked Castings from Remelt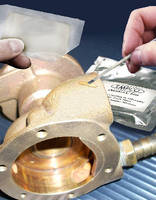 EAST PROVIDENCE, RI - IMSEAL-800(TM), a high-strength epoxy resin, seals gross (visible) porosity in castings and other metal parts. It completely and permanently fills blowholes, cracks, and other such defects where welding or brazing would be impractical. Available from IMPCO, Inc., the clear, multi-purpose sealant is drawn deep beneath the surface, penetrating and filling the void and creating a pressure-tight seal.

Unlike most repair resins that are engineered to seal only the surface of the metal and that can be easily chipped off later, IMSEAL-800's unique chemistry penetrates well below the surface of castings, filling all connected passageways and producing a superior leak-proof seal. And IMSEAL-800's epoxy formulation is effective even in the presence of minor surface contamination. IMSEAL-800 is also ideal for repairing common machining errors such as misplaced holes, damaged threads, tool chatter, and surface nicks. Once cured, the resin can be drilled, tapped, or machined.

IMSEAL-800 comes in a convenient packet in which precise proportions of resin and activator are separated by a clip. Mixing the adhesive is as simple as removing the clip and blending the two parts together thoroughly before opening the packet, which can be used as an applicator. The low-viscosity (750 cps) adhesive is easily dispensed, has a pot life of 45 minutes, and cures at room temperature (faster when heated). Once cured, IMSEAL-800 has a tensile strength of more than 9,000 psi, a compressive strength of 35,000 psi, a compressive yield of 16,500 psi, and a Rockwell hardness of 97. It offers excellent resistance to pressure, impact, and a broad range of chemicals including fuels, oils, alcohols, glycols, Freon®, solvents, salts, mild acids, and most other common liquids and gases at continuous service temperatures of - 65° to 350° F.

Three other IMSEAL formulations are available by special order: aluminum-filled IMSEAL-801, brass-filled IMSEAL-802, and iron-filled IMSEAL-803.

With more than 55 years of experience in vacuum impregnation, IMPCO offers equipment; resins; and parts-cleaning, impregnating, and pressure-testing services for permanently sealing (to industry and U.S. military standards) micro and macro porosity in metal and powdered-metal castings, electronic components, ceramics, and various parts coated with micro-cracked nickel or chrome. IMPCO specialists will optimize the impregnation process for components used in brake, transmission, instrumentation, pumping, compressed air and gas, pressurized spray, fire safety, and hydraulic systems. IMPCO will also custom-engineer impregnation systems, providing customers with all the equipment, materials, and ongoing technical assistance they need to establish in-house impregnating processes.

For more information, contact Terry Chwalk, IMPCO, Inc., 27 Dexter Road, East Providence, RI 02914, TEL: (401) 521-2490 or toll-free at 1-800-779-2491, FAX: (401) 521-5690, E-mail: mail@impco-inc.com, Web: www.impco-inc.com.

More from Packaging Products & Equipment