Sporting Chance – How a UK Tennis and Squash Club is Using Thermal Imaging Technology to Minimise Coronavirus Risks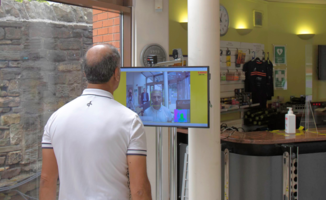 One of England's oldest tennis clubs is using one of the newest technologies to remain open during the coronavirus COVID-19 pandemic.
The Hallamshire Tennis, Squash and Racketball Club -- based in the city of Sheffield in Yorkshire, UK -- has installed AMETEK Land's new VIRALERT 3 thermal imaging camera to screen members and employees as they enter the facility.
Founded 135 years ago, the club's rich history has featured many notable members such as Wimbledon 2012 Men's Doubles winner, Jonny Marray, and three-time World Squash Champion, Nick Matthew.
The VIRALERT system, which is based in the club's reception area, remotely scans a person's skin temperature in about two seconds, reducing the need for close contact. A discreet warning is displayed to the operator if anyone has an elevated temperature. Upon receiving the warning, staff will conduct further checks and may ask the person in question to leave.
Though the device cannot detect COVID-19 or any other disease, an elevated temperature can be an indication of a fever associated with an illness.
In effort with the VIRALERT 3, club officials have also installed additional hand sanitisers, enacted social distancing measures, and reduced the use of communal facilities such as changing rooms. They hope these precautions will allow members to continue enjoying matches and coaching sessions with confidence.
In total, the VIRALERT 3 has scanned around 250 people per day over the summer, with the number steadily increasing. Overall, the system provides an extra layer of security and confidence for staff and members, while minimal operating resources are required.
The club's general manager, Tom Murton, said: "The VIRALERT 3 has given us the confidence to open the club, knowing that we have taken the necessary precautions to keep our members and staff safe. The system is easy to set up and fast to take the measurement, so there is limited waiting time when people are eager to get out on the court!"
Chris Leonard, AMETEK Land's Global VIRALERT Lead, said: "Hallamshire's experience shows the potential benefit to all types of sporting and health clubs, not just tennis, to be able to get members into the building more safely. It is just one tool in the box to prevent the spread of infection."
Click here for more information on VIRALERT 3
Click here to read the case study.
More from Test & Measurement