Spooling, Coiling Equipment automates cutting and transfer.
Press Release Summary: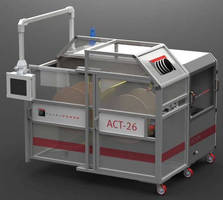 Able to spool or coil, Automatic Cut and Transfer (ACT) System is adaptable for wire and cable applications requiring accumulation, contact dancer, pneumatic cutting, and on-line printing to micro tubing applications requiring non-contact, ultrasonic position control for low running tension. Operability, features, and color touchscreen UI let single operator oversee multiple lines, facilitating control with optimized switchover reliability at high speeds. Upgrade options are available.
---
Original Press Release:

Tulsa Power's Automatic Cut and Transfer (ACT) Spooling & Coiling Equipment is Ideal for Wire and Cable



Significantly reduces labor requirements; reliable and easy to operate

(Tulsa Power, Tulsa, OK) ... The Tulsa Power Automatic Cut & Transfer (ACT) System of high performance spooling & coiling equipment has generated tremendous interest not only in tubing and profile applications, but in wire and cable processes as well.

These new systems have the ability to spool or coil and are fully automatic and highly reliable. The new technology and "no nonsense" design has addressed customer identified weaknesses of other equipment offerings, namely "over engineered" systems and reliability issues. This series of spooler/coilers is adaptable for the toughest wire and cable application requiring accumulation, a contact dancer, pneumatic cutting and on-line printing to the ultra-critical micro tubing applications requiring non-contact, ultrasonic position control for extremely low running tension.

The ease of operation and user friendly interface allow a single operator to oversee multiple lines generating a labor savings over previously used manual and semi-automatic systems. Special control features and a user friendly, color operator touch screen interface allow convenient operator controls with exceptional switchover reliability at high speeds. The automatic design eliminates product from piling up on the floor, as required on manual switch-over machines, saving the operator time, minimizing scrap rates, improving wind appearance, and product quality, while improving safety. This advanced system offers numerous upgrade options. Couple an ACT spooler/ coiler with available on-line packaging equipment, i.e. multiple position twist-tie, stretch wrap, coil counting and boxing, and the process becomes even more automated and labor saving.

Please contact us to learn more about these innovative systems or visit www.tulsapower.com. We can also be found at Booth # 711 at MD & M West, Booth # 9/F05-04 at Wire Dusseldorf or see the ACT Coiler live at NPE, Booth 8677 West Hall, in Orlando.

About Tulsa Power
Tulsa Power designs and builds a wide range of material-handling equipment for hose, tube, pipe, wire and cable industries-including coilers, haul-offs/Caterpullers, payoffs, take-ups, accumulators, linear measurers, rewind/test lines, twinner/quadders, concentric and eccentric taping lines, spiral striping machines and control upgrades-and many specialty items. Please visit us at www.tulsapower.com to learn more.

More from Electronic Components & Devices