Sponge Gasket Material provides ESD protection.
Press Release Summary: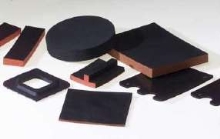 Semi-Conductive S4503-CON closed cell, synthetic rubber sponge is formulated to have 500,000 ohms per square maximum surface resistivity. Compression force deflection is 3-7 lb per square inch. Sheets are available in .125, .250, .375, .500, .750, and 1.0 in. thicknesses. Material is suited for gaskets and cushioning pads in aerospace ground support, powder chemical processing, and integrated circuit handling applications requiring ESD grounding.
---
Original Press Release:

Semi-Conductive Sponge Gasket Material for ESD Protection


Philadelphia, PA -- Stockwell Rubber Company, Inc. announces the availability of Semi-Conductive S4503-CON closed cell sponge for gaskets and cushioning pads in aerospace ground support, powder chemical processing and integrated circuit handling applications requiring ESD grounding. S4503-CON is a closed cell synthetic rubber sponge, formulated to have 500,000 ohms per square maximum surface resistivity. It has a compression force deflection of 3 to 7 pounds per square inch, considered a medium density sponge product. Stockwell Rubber Company maintains inventory of 2" thick molded buns from which sheets are available in .125", .188", .250", .375", .500", .750" and 1.0" thicknesses.

For applications requiring an adhesive backing, #8002 Carbon Filled Semi-Conductive acrylic adhesive can be applied onto S4503-CON to ensure ESD grounding through the adhesive layer. Stockwell Rubber Company, Inc. die cuts, water jet cuts, applies pressure sensitive adhesive backings and fabricates custom multi-layered cushioning pads from S4503-CON and many other high performance foam and sponge rubber materials.

For .50" thick evaluation samples of S4503-CON, complete information on Stockwell Rubber Company's offerings in Silicone Foams, other ESD conductive materials, silicone rubber products, and molding and fabrication capabilities, contact: William B. Stockwell, wbstockwell@stockwellrubber.com

Stockwell Rubber Company, Inc. 4749 Tolbut Street Philadelphia, PA 19136 (215) 335-3005 (215) 335-9433 fax Email: service@stockwellrubber.com Website: www.stockwell.com Rev 2/14/2005

More from Mechanical Components and Assemblies