Split Spherical Roller Bearings help reduce maintenance and downtime.
Press Release Summary: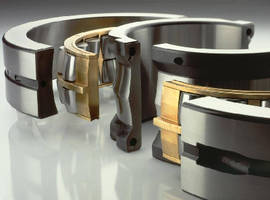 Split spherical roller bearings are useful when several solid spherical roller bearings are being used to support complex drive shaft or where bearing needs replacing but is located in tight space on machine. With 620 mm dia and 210 kg weight, bearings have split design that enables mounting into existing housing without removal of transmission shaft. Inner ring, outer ring, and cage assembly are split, and cylindrical bore provides direct mounting onto shaft.
---
Original Press Release:

Split Bearings Slash Maintenance Costs on Bucket Wheel Excavators



By replacing a standard spherical roller bearing on the drive shaft of a bucket wheel excavator with a new split spherical roller bearing from the Schaeffler Group, Pilbara Iron is now saving 27,500 euros each time a bearing is replaced.

Repair and overhaul of components on large high capital cost plant and machinery soaks up valuable time and resources, often resulting in costly production downtime, while the machine is offline being repaired. Harsh operating environments can also mean more regular maintenance being required on certain types of machinery.

Split spherical roller bearings are particularly useful when several solid spherical roller bearings are being used to support a complex drive shaft, or where the bearing needs replacing but is located in a tight space on a machine, so access is restricted.

Pilbara Iron, a member of the Rio Tinto Group, operates mining, rail and port facilities. The company operates two shipping terminals in Dampier, Australia. Each terminal is equipped with train unloaders, iron ore storage and blending facilities, and shiploaders.

A bearing on the main drive of a bucket wheel excavator at Dampier had to be replaced recently. The bearing, an FAG standard spherical roller bearing from Schaeffler, was difficult to access and required that the transmission shaft be dismounted first. This meant that replacing the bearing was a lengthy, labour-intensive process. Pilbara Iron estimates that it loses 72 hours of production downtime each time this type of bearing needs replacing.

Following a recommendation from Schaeffler Australia, Pilbara Iron decided to replace the standard spherical roller bearings with FAG split spherical roller bearings. These bearings have a diameter of 620mm and weigh 210kg. Due to their split design, the bearings can be mounted into the existing housing without having to remove the transmission shaft.

When the new bearings were actually fitted to the main drive on the bucket wheel excavator, production losses were cut by 50 per cent, while maintenance labour costs were also significantly reduced.

Although the cost of purchasing a split spherical roller bearing is several times higher than a conventional version, the potential for cost savings over the life of the bearing is enormous.

At Pilbara Iron, the cost benefit amounted to 27,500 euros for each bearing replacement. The company also benefits from long term savings in maintenance costs, since the split spherical roller bearings enable faster and simple bearing replacement.

With split spherical roller bearings, the inner ring, outer ring and cage assembly are split. A cylindrical bore provides direct mounting onto the shaft. These bearings typically offer high thrust load capability and dynamically compensate for any misalignment.

With the FAG range of split spherical roller bearings from Schaeffler UK, the outside diameter, outer ring width and shaft seat diameter are identical to the dimensions of the standard spherical roller bearings range. This means customers can easily replace solid bearings with split versions with an adapter sleeve.

Mounting of split bearings normally leads to a reduction of machinery downtime and maintenance costs, particularly in those industries where the value of capital equipment is normally high, including mining, quarrying and mineral processing. In many cases, split bearings can also reduce the cost of new designs, because the bearings simplify the assembly process and mounting procedure.

As well as bucket wheel excavators, split spherical roller bearings can also be found on winch drums, screw conveyors, mixers and stirrers, mills, crushers, rotary kilns, fans and blowers, drive and line shafts, which all require regular maintenance, repair and overhaul.

For more information on FAG Industrial Services, please visit www.fis-services.com or telephone the marketing department on 0121 313 5870 for a copy of the technical product brochure WL43 165.

With a total of 66,000 employees at over 180 locations around the globe and group sales of 8.9 billion euros (fiscal year 2008), the Schaeffler Group is one of the world's leading rolling bearing manufacturers and automotive component suppliers. The corporate group includes the INA Group with headquarters in Herzogenaurach, the FAG Group based in Schweinfurt as well as the LuK Group, with headquarters in Bahl.

FAG Industrial Services (FIS) is a member of the FAG Group and supports the Schaeffler Group in the UK and worldwide with industrial services including effective maintenance management and condition monitoring.

Dean Palmer
Director
SilverBullet PR Ltd
Tel: 01780 753 000
Mobile: 07703 023 771
Email: [email protected]
www.silverbulletpr.co.uk

Schaeffler (UK) Ltd,
Forge Lane
Minworth
Sutton Coldfield
West Midlands B76 1AP
Tel: 0121 351 3833 Fax: 0121 351 7686
e-mail: [email protected]
www.schaeffler.co.uk