Split Roller Bearings offer accurate cage alignment.
Press Release Summary: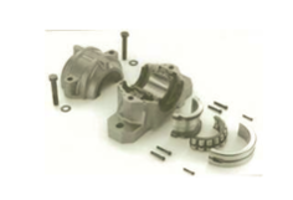 Suitable for applications from food processing and steel manufacturing to power generation and water treatment facilities, Split Roller Bearings are available in direct drop replacements, SAF Spherical Roller and Cylindrical Roller unit with metric and inch shaft dimensions. Units come with markings for assisting in positioning and orientation.
---
Original Press Release:
Emerson Bearing Boston Expands Line of Split Bearings used in Industrial Facilities
Emerson Bearing Boston, a bearing company catering to Original Equipment Manufacturers (OEM) and Maintenance, Repair and Operations (MRO) markets around the world, has expanded their line of Split Roller Bearings.
Used in a variety of applications, from food processing and steel manufacturing to power generation and water treatment facilities, Split Roller Bearings offer great versatility and wide-reaching benefits.
Allowing for reduced maintenance and fewer replacements than traditional solid roller bearings, split bearings are used in a range of applications to reduce downtime, save on costs, and increase overall safety. Quick and easy to install and replace, these versatile components are essential for any facility requiring consistent operational efficiency. They are available as direct drop in replacements dimensionally to standard SAF Spherical Roller and Cylindrical Roller units with both metric and inch shaft dimensions.
As an industry-leading provider of various types of bearings, Emerson Bearing is proud to offer split bearings line from Timken Revolvo, Craft, and FAG.
Increasing Facility Efficiency and Reducing Downtime
Some of the key advantages of split roller bearings include reduced operational costs, accurate cage alignment, and simple installation and assembly. Equipment and machinery don't need to be disrupted, and markings are included in all split bearing designs to assist with part positioning and orientation. Additionally, split bearings are delivered in two halves, so they are very easy to install, inspect, and replace.
"Split roller bearings offer the qualities of high efficiency and reliability thanks to their versatility and reduced maintenance requirements compared to traditional solid roller bearings," explained Steve Katz, president of Emerson Bearing. "Split bearings reduce the downtime required for moving equipment or changing bearings and they free up personnel and resources, allowing for increased focus on other important tasks. Emerson Bearing offers a vast inventory, 24/7 service, and customization services as needed which are critical to our customers' operations."
About Emerson Bearing Boston
Founded in 1957, Emerson Bearing Boston specializes in bearings for OEM and MRO markets throughout the world. The company provides solutions to a variety of industries including: aggregate, concrete, mining, machine tools, electric motor repair, marine, material handling, metal processing, packaging, food processing, paper converting, printing, wind/power generation, recreation, heavy construction, robotics, automation, transportation, wood products, wastewater treatment, pump, compressor and oil field.
Emerson Bearing Boston offers customers a one-stop shopping experience. With an online product catalog with over 3 million bearings - ranging in size from 3mm to tunnel-boring 15-foot-diameter giants; a vast inventory of bearings; worldwide sourcing; a fixed price program; a knowledgeable staff; same day shipping and 24/7 service, Emerson Bearing Boston has become a leading provider of bearings in the U.S. They are the sister company of Action Bearing and maintain headquarters at 201 Brighton Ave. Boston, MA. For more information, visit www.emersonbearing.com or call 800-225-4587.