Split Darlington Optocouplers operate at 3.3 and 5 V.
Press Release Summary: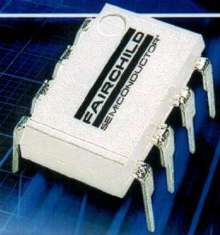 Dual-channel HCPL0730 and HCPL0731 offer 5 V operation and SOIC-8 packaging, while single-channel FOD070L and FOD270L, and dual-channel FOD073L, operate at 3.3 V. Split darlington output configuration separates input photodiode and first stage gain from output transistor to permit output saturation voltage of 0.1 V. Units offer 0.5 mA input current, 1800% typical current transfer ratio, and 5 KV standard isolation voltage rating (single channel 8-pin DIP).
---
Original Press Release:

Fairchild Semiconductor's New Family of 3.3V and 5V Split Darlington Optocouplers Offer Low Power Consumption and High Performance for RS-232 to 3.3V Logic Interfacing


San Jose, CA - October 6, 2003 - Fairchild Semiconductor (NYSE: FCS) today announces the expansion of its family of split darlington optocouplers with five new products in both single- dual-channel configurations offering 3.3V or 5V operation voltages for low power consumption. The dual-channel HCPL0730, HCPL0731 optocouplers offer 5V operation and SOIC-8 packaging for optimum mounting density. The single-channel FOD070L, FOD270L and dual channel FOD073L devices, at 3.3V operation voltage, further reduce power consumption by 33%, versus conventional 5V parts.

Fairchild's new darlington optocouplers are pin-for-pin compatible with other leading suppliers' HCPL devices. Typical applications for these products include RS-232 line receiver, LVTTL to LVCMOS interfacing, AC line voltage status indicator, ground loop isolation, and data multiplexinig applications.

These darlington optocouplers utilize a split darlington output configuration separating the input photodiode and first stage gain from the output transistor, to permit lower output saturation voltage (0.1 V) and higher-speed operation than traditional darlington phototransistor optocouplers. Fairchild's new family of optocouplers offer low input current (0.5mA), high (1800% typical) current transfer ratio (CTR), high standard isolation voltage rating (5KV in single channel 8-pin DIP) and guaranteed performance over a wide (0-70°C) temperature range. In the dual channel devices, a resistor integrated between the emitter and base of each output transistor provides superior temperature stability.

"To address the ever decreasing power budget faced by system designers," said John Constantino, strategic marketing manager of Fairchild's Optoelectronics group, "Fairchild's new line of high performance optocouplers offer vital power savings without sacrificing performance."

Product Information:

Product   Dual/Single   Supply Voltage(input   Package Type   Price $US (1000

          Channel       current 0.5mA)                        pcs.)

HCPL0730  Dual          5V                     SOIC-8         $2.00

HCPL0731  Dual          5V                     SOIC-8         S2.05

FOD070L   Single        3.3                    SOIC-8         $0.85

FOD073L   Dual          3.3                    SOIC-8         $1.93

FOD270L   Single        3.3                    DIP-8          $0.55


These products expand Fairchild's solutions for power conversion and isolation, which includes switching regulators, MOSFETs, PWM controllers, LDOs, rectifiers, and diodes.

Price: Please see table.

Availability: 6 weeks lead time. Samples available now.

For more information about this product go to:

http://www.fairchildsemi.com/pf/FO/FOD070L.html
http://www.fairchildsemi.com/pf/FO/FOD270L.html
http://www.fairchildsemi.com/pf/FO/FOD073L.html
http://www.fairchildsemi.com/pf/HC/HCPL-0730.html
http://www.fairchildsemi.com/pf/HC/HCPL-0731.html

http://fairchildsemi.com/whats_new/opto.html. For information on other Fairchild products, design tools, and sales contacts, please visit www.fairchildsemi.com.

About Fairchild Semiconductor:
Fairchild Semiconductor (NEYSE: FCS) is a leading global supplier of high performance products for multiple end markets. With a focus on developing leading edge power and interface solutions to enable the electronics of today and tomorrow, Fairchild's components are used in computing, communications, consumer, industrial and automotive applications. Fairchild's 10,000 employees design, manufacture and market power, analog & mixed signal, interface, logic, and optoelectronics products from its headquarters in South Portland, Maine, USA and numerous locations around the world. Please contact us on the web at www.fairchildsemi.com.

More from Test & Measurement