Splines and Splined Bushings fit shafts from 11/32-3/4 in.
Press Release Summary: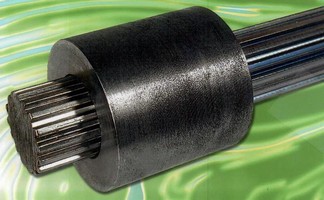 Splines, offered as carbon steel C-12L14 Series A 1C25 or stainless 416 annealed A 1Y25 Series, permit sliding between mating members in axial direction. Shafts contain 16 external spline teeth, and stock lengths of splined shafts range from 1-6 ft. Splined bushings contain 16 internal teeth and are offered as carbon steel A 1C26 Series or stainless 416 annealed A1Y26 Series. Bushing ODs range from .625 in. to 1.500 in., and bushing lengths range from .40-1.5 in.
---
Original Press Release:
Splines and Splined Bushings from Stock Drive Products Provide Fastening Advantages
New Hyde Park, New York - An expanded series of splines and splined bushings from Stock Drive Products offer an inexpensive and efficient way to transfer high transmission torques from shafts to gears, pulleys and other components, or to couple two shafts together. Additionally, because the splines permit sliding between mating members in the axial direction, by press-fitting a spline bushing into a component, such as a gear or belt pulley, the component can be shifted axially as desired even during rotation. Such splined components can transmit much higher torques when retained by means of set screws or keyways. The spline shafts are available in two series: designated as the A 1C25 Series (manufactured of carbon steel C-12L14), and the A 1Y25 Series (stainless 416 annealed). Shaft sizes range from 11/32 in. dia to 3/4 in. dia and shafts contain 16 (external) spline teeth. Stock lengths of the splined shafts range from 1 to 6 ft. The splined bushings contain 16 internal teeth and are designated as the A 1C26 Series (manufactured of carbon steel C-12L14), and the A1Y26 Series (stainless 416 annealed). Their nominal bore diameters range from 11/32 in. to 3/4 in. Bushing outer diameters range from .625 in. to 1.500 in., and bushing lengths from .40 in. to 1.5 in. Availability is from stock. Splined bushings made of different materials are also available on request. Detailed specifications are contained in Catalog D790, available free upon request, from Stock Drive Products, 2101 Jericho Turnpike, P.O. Box 5416, New Hyde Park, NY 11042-5416. Phone: 516-328-3300 o Fax: 516-326-8827. Web: http://sdp-si.com/Press/New/Shafts18_2.htm
More from Electrical Equipment & Systems