Splicing Tape targets paper manufacturing industry.
Press Release Summary: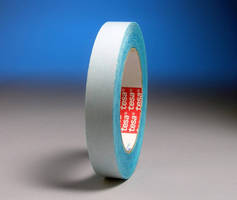 Multi-purpose splicing agent tesa® 64437 is suited for common repulpable adhesive tape applications, including attaching substrates to cores to enable winding process, manual splicing of one substrate to another, and for permanent splicing. Tape adheres to coated and uncoated paper stock and maintains its initial positioning with little to no movement. Utilizing tissue-paper backing and water-soluble adhesive, tape is recyclable during pulp and re-pulp processes.
---
Original Press Release:

Tesa Tape, Inc. Announces New Splicing Tape



CHARLOTTE, NC, USA - April 28, 2009 - Company officials of tesa tape, inc., a division of tesa SE, a global leader in the manufacture and supply of pressure-sensitive adhesive tapes, recently announced a new product for splicing applications in the paper manufacturing industry. This new innovation - tesa® 64437 - joins the company's vast assortment of specialty splicing products.

Splice with Confidence

Based on the same tried-and-true technology of many tesa® splicing tapes, tesa® 64437 is designed to be a flexible, multi-purpose splicing agent for common repulpable adhesive tape applications, including: 1) attaching substrates to cores to enable the winding process, 2) manual splicing of one substrate to another, and 3) permanent splicing.

Equipped with an aggressive adhesive system, tesa® 64437 adheres extremely well to coated and uncoated paper stock and maintains its initial positioning with little to no movement. One of the most notable features of this tape is its ability to be recycled during pulp and re-pulp processes, making it a "repulpable" tape. This is made possible by the tape's unique tissue-paper backing and water-soluble adhesive. The tape's protective liner is the only part of the tape that requires discarding. As such, this product is one of tesa's eco-friendly products and part of our "Focus on Environment" initiative.

tesa offers an extensive line of specialty tapes and related products specifically for paper manufacturing, coating, and converting industries. Visit the company's website for complete assortment information - www.tesatape.com.

About the Company

For over a century, tesa tape has pioneered the development of pressure-sensitive adhesive tape technologies. This rich tradition of innovation dates back to 1882 when the company's founder patented a method for manufacturing medical adhesive dressings. With this invention came the beginning of a global enterprise dedicated to the development and promotion of advanced adhesive tape solutions. Today, this worldwide enterprise services customers in over 100 countries around the globe and holds numerous product patents. In North America, tesa markets many diverse product lines including double-sided fastening tapes, masking tapes and associated products, packaging tapes, duct and cloth tapes, and many specialty tape products. At tesa, it is our charter to provide our customers with service levels and applications expertise that are second to none in the industry. With this as our goal, we stand committed to providing adhesive tape solutions beyond the roll!

Public Relations Contact:

Annette Carroll

Marketing Communications Mgr.

(704) 553-4668

acarroll@tesatape.com

Marketing Contact:

Joe Prunier

Market Manager - Paper, Print, Film

(704) 553-4698

jprunier@tesatape.com

tesa tape, inc.

5825 Carnegie Blvd.

Charlotte, NC 28209v
(800) 426-2181

(800) 852-8831 Fax

customercare@tesatape.com

www.tesatape.com

ISO 9001: 2000 certified

ISO TS 16949:2002 certified

ISO 14001:2004 certified

More from Agricultural & Farming Products