SPL® 350 Lite Driveshaft enables engine downspeeding.
Press Release Summary: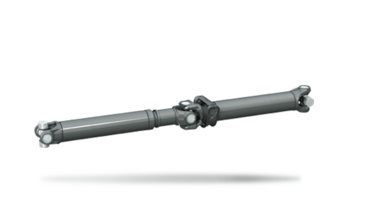 Used with highway and heavy-haul vehicles with engine downspeeding configurations, SPL® 350 Lite Driveshaft is 35 lb lighter than existing products. Enhancing vehicle dynamics and easier maintenance, Driveshaft offers 2.26:1 axle ratios for 6x4 tandem axle configurations. Product is available in standard re-lube designs and offers reliable torque-management.
---
Original Press Release:
Dana Launches New SPL® 350 Lite Driveshaft, Improving Performance of Industry-Leading Driveline for Engine Downspeeding
Dana Incorporated (NYSE: DAN) is announcing the production launch of its new SPL® 350 Lite driveshaft optimized for high-efficiency on-highway and heavy-haul vehicles with engine downspeeding configurations. The innovation is on display at the Technology & Maintenance Council's (TMC) 2017 Annual Meeting and Exhibition.
Now available at select original-equipment manufacturers (OEMs), the new SPL 350 Lite driveshaft is up to 35 pounds lighter than existing products, making it the lightest weight driveshaft in its class. It offers improved performance, enhanced vehicle dynamics, and easier maintenance while delivering the durability and reliability required to support torque-management needs resulting from fast axle ratios that enable engine downspeeding.
Four years ago, Dana was the first to market with an integrated driveline solution for engine downspeeding when it introduced the Spicer® AdvanTEK™ 40 tandem axle and SPL® Series driveshafts. The SPL 350 Lite driveshaft positions Dana for powertrains that enable engine downspeeding by supporting axle ratios lower than 2.26:1, which is the fastest ratio on the market today for 6x4 tandem axle configurations.
"When it comes to engine downspeeding, every OEM has specific torque-handling requirements," said Mark Wallace, executive vice president of Dana and president of Dana Commercial Driveline Technologies. "The SPL 350 Lite driveshaft has been designed to incorporate the strength and durability of the industry-proven SPL® 350 driveshaft, while reducing overall weight in optimized downsped drivetrain configurations."
Designed with 11 fewer components to reduce weight and enable faster, easier installation by OEMs, this driveshaft offers extended component life, as well as improved performance and vehicle dynamics with reduced noise, vibration, and harshness levels. It shares service components with the existing SPL 350 driveshaft, simplifying maintenance and inventory for truck owners and service facilities.
Dana offers the SPL 350 Lite driveshaft with a choice of service-free or standard re-lube designs to accommodate fleet preference. Dana is the only supplier in the industry to offer universal joint kits that are 100 percent interchangeable, allowing truck owners to change between service-free and re-lube configurations.
Dana will present a comprehensive lineup of driveline technologies for commercial vehicles in booth 1334 at TMC's 2017 Annual Meeting this week.
About Dana Incorporated
Dana is a world leader in highly engineered solutions for improving the efficiency, performance, and sustainability of powered vehicles and machinery. Dana supports the passenger vehicle, commercial truck, and off-highway markets, as well as industrial and stationary equipment applications. Founded in 1904, Dana employs approximately 27,000 people in 34 countries on six continents who are committed to delivering long-term value to customers. The company reported sales of more than $5.8 billion in 2016. Forbes Magazine has again selected Dana as one of America's 100 Most Trustworthy Companies. Based in Maumee, Ohio, the company's headquarters operations were selected as a "Top Workplace" by The (Toledo) Blade in 2017. For more information, please visit dana.com.
SOURCE Dana Incorporated
CONTACT: Jeff Cole,
+1-419-887-3535,
Web Site: http://dana.com
More from Test & Measurement