Spiroflow to Show Complete Range of Conveying and Bulk Bag Handling Equipment at Pack Expo International in Chicago, Illinois USA November 9-13, 2008, Booth #S-3018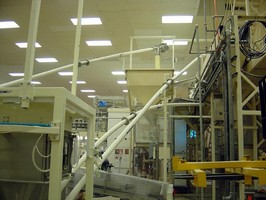 CHARLOTTE, N.C. - Spiroflow Systems, Inc., of Charlotte, North Carolina, sister company to UK-based Spiroflow Ltd., will be showing its comprehensive range of standard and custom-made conveying and bulk bag handling equipment and two newly developed products at PACK EXPO International at the McCormick Place in Chicago, Illinois on November 9-13, 2008 Booth #S-3018. The Spiroflow exhibit will be part of the United Kingdom's Process and Packaging Machinery Association (PPMA) Pavilion at the show.

Among new products being shown by Spiroflow at Booth S-3018 in Pack Expo will be a new, economic range of 'Spirostore' Flexible Silos that provide tailor-made solutions for quick, efficient and safe storing of bulk solids and ingredients in most industries. According to Spiroflow, no other bulk storage system can match the versatility of flexible silos.

'Spirostore' Flexible Silos are made of a durable, yet flexible, polyester fabric supported on a steel frame and are an alternative to steel or aluminum silos. The silos can store 7,000 ft3 of dry bulk material and support weights up to 90,000 lbs. Each 'Spirostore' Silo is adapted to suit specific customer requirements in terms of space available, exact product specifications and how the product should be discharged. 'Spirostore' Silos can be mobile or stationary and made to suit any indoor or weatherproof location and designed to connect to any of Spiroflow's range of conveyors

At PACK EXPO, Spiroflow will also show its new Aero-Mechanical Conveyor (AMC) 'AutoTensioner'. The AMC 'AutoTensioner' opens up a wide cross-section of additional applications for the AMC. Other key customer benefits include reduced downtime, reduced maintenance and increased rope life.

Another highlight of Booth #S-3018 will be a major hands-on working exhibit that will demonstrate the principles, functions and benefits of Spiroflow's Bulk Bag Dischargers, Flexible Screw Conveyors and Aero-Mechanical Conveyors.

These units are custom made to customer specifications and all are thoroughly tested before delivery. Typically, Flexible Screw Conveyors offer the lowest cost and are the easiest to clean, means of conveying products ranging from free flowing salt and sticky lumps of broken chocolate to chemicals and minerals.

Information on Spiroflow's nine types of bulk bag dischargers ranging from simple bag support frames to sophisticated models offering "total confinement" will be available. Also on hand will be information on Spiroflow's comprehensive range of bulk bag filler systems, bin, bag and drum emptiers, bag packers and Pneuvac(TM)vacuum conveyors.

Highlights of Spiroflow's comprehensive product testing service and post-sales program will also be available.

Benefits of the company's products to the food and pharmaceutical industries, where the emphasis is on hygiene and containment, will be detailed along with benefits to the chemical, mineral and other industries where the emphasis is on toughness and durability.

About Spiroflow
Spiroflow Systems specializes in bulk storage, mechanical and pneumatic conveying and the filling and discharging of dry bulk solids from bulk bags. The company offers nine discharger types ranging from simple bag support frames to sophisticated models offering "total containment". The company also supplies a wide range of both standard and custom powder handling equipment.

For more information contact Spiroflow Systems at 704-291-9595, fax 704-291-9594 or email info@spiroflowsystems.com. Spiroflow Systems can be found on the Internet at www.spiroflowsystems.com. Spiroflow Ltd can be reached at +44-(0) 1200- 422525, by FAX at +44-(0) 1200-428165 or by e-mail at info@spiroflow.com.

Editor contact: (US, Canada and Latin America)
Dick Stark or Kevin Nichols, Stark & Associates, Inc.
1171 Market Street, Ste. 113, Fort Mill, SC 29708
Tel: (803) 802-7141; FAX: (803) 802-7107 or e-mail
dick.stark@starklmc.com or kevin.nichols@starklmc.com

Editor contact: (Europe & Asia)
Keith Simpson, Spiroflow Ltd., Lincoln Way, Clitheroe, Lancs,
BB7 1QG, United Kingdom. Tel: +44-(0) 1200- 422525 FAX +44 (0)
1200-428165 or by e-mail at keith.simposn@spiroflow.com.

More from Services