Spirit™ Sand Plant features HDPE piping system.
Press Release Summary: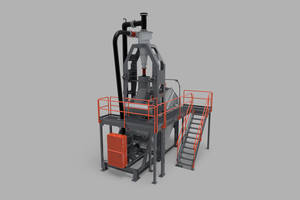 Manufactured in four models ranging from 60-200 TPH and 1500-3500 GPM output models for UFR, Spirit™ Sand Plant configuration includes cyclone, dewatering screen, sump tank, and slurry pump. Designed with 100% cast urethane of 3/8-in. to 1-in. thickness for 12-in. and 16-in. models, product is made of lighter material. Featuring cyclone and dewatering screen, unit's dewatering screen helps in reducing moisture content up to 8%.
---
Original Press Release:
Superior Expands Washing Equipment Offering, Releases New Sand Plant
Superior Industries, Inc., a U.S. based manufacturer and global supplier of bulk material processing and handling systems, has added another solution for sand production and fines recovery to its growing product portfolio, the Spirit™ Sand Plant. The unit's configuration includes a cyclone, dewatering screen, sump tank, and slurry pump to classify and produce salable manufactured sand.
According to Superior engineers, the incorporated hydrocyclone is designed with longer-lasting materials. For example, 12-inch and 16-inch models are manufactured with 100% cast urethane of 3/8-inch to 1-inch thickness. The material is lighter and easier to handle than steel in addition to having better wear properties. The 24-inch and 36-inch models are built with structural steel, but incorporate a poured urethane liner.
Each cyclone is designed with a unique geometrically efficient offset feed. This design eliminate inefficient turbulence, boosts the preciseness of classification and reduces wear to components. Additionally, HDPE piping throughout the system is said to be lighter and easier to handle than steel while providing longer wear life.
The dewatering screen on the Spirit Sand Plant helps producers achieve moisture content in their product as low as 8%. The dewatering screen's deep sloped bed design encourages material flow and reduces corrosion
For sand production, Spirit Sand Plants are manufactured in four models with outputs ranging from 60-200 TPH. For ultra fines recovery (UFR), Superior designs three models with water outputs of 1500-3500 GPM. The Spirit Sand Plant is designed to be containerized for international shipping.
About Superior Industries, Inc.
Superior Industries engineers and manufactures groundbreaking, bulk material handling equipment and cutting-edge components. From its headquarters in Morris, Minnesota, USA, the manufacturing firm supplies bulk crushing, screening, washing and conveying systems for industries including construction aggregates, mining, bulk terminals, agriculture, power and biomass. In addition to its home plant in Minnesota, the 45-year-old Superior operates from additional engineering and manufacturing plants in Alberta, Canada; Arizona, USA; Georgia, USA; Michigan, USA; Nebraska, USA; and New Brunswick, Canada.
For more information, contact:
Dan Tiernan,
Marketing Communications
315 East State Highway 28
Morris, Minnesota 56267 U.S.A.
+1 (320) 589-2406
More from Software