Spirax Sarco is Nominated for the 2016 Plant Engineering Product of the Year Award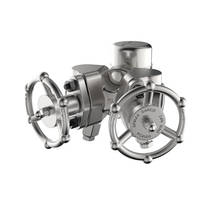 Spirax Sarco, Inc. announces that the PC4000 Pipeline Connector is a finalist for Plant Engineering Magazine - 2016 Product of the Year in the Energy Management category.
The PC4000 has been developed to satisfy the needs of modern process industries, significantly simplifying installation and reducing maintenance time. Traditional steam trapping assemblies often require the plant to be shutdown for new traps to be installed, taking significant time and reducing production output. The PC4000 pipeline connector, with double isolation, allow steam traps to be installed without the need for process shutdown.
The PC4000 pipeline connector is ideal for the oil, petrochemical and specialty chemical industries and is suitable for manifold applications where steam traps are used for tracing.
Some of the features and benefits include:
ASME 600 rated forged body - suitable for use on lines up to 800°F
Fully shrouded piston valve stem - reducing potential of corrosion
Strainer fitted as standard - protects steam trap from debris entrained in the condensate
This is the 28th year Plant Engineering has offered the Product of the Year contest for the best new products that improve productivity and safety in manufacturing operations. Each subscriber receives an electronic ballot via email with all of the year's new product finalists. The voter chooses which new product he/she thinks will most help their operation and the ballot is submitted for tabulation. Get access the 2016 Product of the Year ballet via http://bitly.com/2hdWvae. Voting closes on December 30, 2016 and Plant Engineering will announce the winner of the Gold, Silver, and Bronze awards in the April 2017 edition of the magazine available in both print and digital.
About Spirax Sarco, Inc.
For engineers around the world Spirax Sarco is synonymous with excellence in steam system management. We offer the industry's most extensive range of products and services, coupled with expertise based on over a century of practical application across a variety of industries. In short we create the solutions that set the benchmark for steam-using organizations worldwide, working alongside them to improve productivity, save energy and reduce waste.
Spirax Sarco
1150 Northpoint Blvd. Blythewood SC 29016
phone: 8037142036
url: http://www.spiraxsarco.com/global/us
contact:
Tracy Bertone
Marketing Communications Coordinator
email: tracy.bertone@us.spiraxsarco.com
More from Transportation Industry Products