SPIRALIFT® SC Screenings Conditioner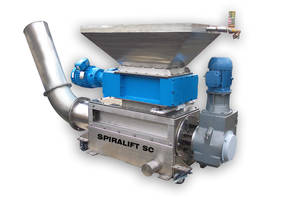 Combining Grinding and Washing Results in the Most Complete Washing
The SPIRALIFT SC Screenings Conditioner, washes, conditions and compacts screenings typically received from a bar screen discharge. This unit reduces odors, removes organics and makes the screenings suitable for disposal at ordinary landfills. This unit quickly pays for itself by reducing disposal costs. By combining a powerful grinder and effective wash press into one system, the SPIRALIFT SC achieves thorough washing unmatched for any other single technology.
As the screenings are received from the bar screen in the SC hopper, they are spray washed and finely ground by a heavy-duty. TASKMASTER® grinder which exposes multiple surfaces to the washing action. The solids then drop into a second zone for intensive washing under high pressure. A powerful screw press washes and drains liquids and contaminants and finally compacts them as they are discharged from the unit's "elephant trunk". The cleaned solids are discharged into a bin, container or onto a conveyor.
The SPIRALIFT SC is compact and freestanding and can be placed in tight plant locations. It can be installed behind a new mechanical bar screen or retrofitted to an existing installation. The unit can be fixed mounted or configured for portable operation to handle the output from multiple sources. The SPIRALIFT tank enclosure and hopper are constructed of durable stainless steel. A PLC-based control system with a touch screen HMI interface is supplied. The control monitors and integrates all system functions.
For more information contact: FRANKLIN MILLER INC., 60 Okner Parkway, Livingston, NJ 07039, Tel: 973-535-9200, www.franklinmiller.com, info@franklinmiller.com
Contact:
Jennifer Cerruto