Spiral Inductor Coils feature thin photolithography film.
Press Release Summary: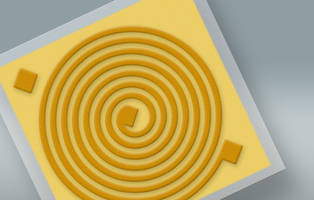 Offering inductance from 1.5nH to 300nH with 1.5 to 18.5 turns, Spiral Inductor Coils come in 10 models and 7 square directions of .030 x .030in., .040 x .040in., .045 x.045in., .055 x.055in., .065 x .065in., .075 x.075in. and .085 x .085 in. Applied in microwave circuits and power supplies as inductors have polymide coating on quartz substrate and can also be wire bonded for connection after epoxied with nonconductive epoxy.
---
Original Press Release:
Spiral Inductor Coils with Passivated Protective Coating Offers Inductance from 1.5 nH to 300 nH.
SemiGen, Inc. (www.semigen.net), an ISO and ITAR registered RF/Microwave assembly, automated PCB manufacturing, and RF Supply Center, has added a series of inductor coils to its expanding product offerings.
SemiGen spiral inductor coils come in ten models with seven different square dimensions including .030"x.030", .040"x.040", .045"x.045", .055"x.055", .065"x.065", .075"x.075", and .085"x.085"―all inductors are .012" thick. Inductance offered ranges from 1.5 nH to 300 nH with 1.5 turns up to 18.5 turns. The spiral inductor coils are manufactured on a thin film process on quartz substrates with precision photolithography and non-chemical etching to ensure clean edges and uniformity from coil to coil. A polymide coating is applied on the quartz substrate to eliminate the need for conformal coating or staking, inductors can be epoxied down with nonconductive epoxy and wire bonded for connection. These inductors are ideally suited for microwave circuits and power supplies.
Visit the SemiGen Product Library to download a full datasheet on the Spiral Inductor Coils.
About SemiGen
SemiGen is a leading RF/microwave solutions company that provides manufacturing services and products to fill the voids in the supply chain and manufacturing floor. SemiGen's design and manufacturing center includes RF/microwave assembly, PCB, box build, module repair and test services coupled with the semiconductor devices and manufacturing supplies needed for successful products in the RF/Microwave hybrids and components. Their team helps with designs, builds prototypes, and handles volume production runs for the RF/microwave, military, space, homeland security, optical, medical device, and commercial wireless markets. Their 17,000 square foot facility includes a class 10,000 clean room and offers manual to full automatic assembly for any manufacturing challenge. The company was founded in 2009 and is based in Manchester, NH. For more information, visit http://www.semigen.net
Company Contact: 
Jim Morgan
SemiGen,Inc.
603-624-8311
More from Sensors, Monitors & Transducers