Spiral Hydraulic Hose features abrasion-resistant cover.
Press Release Summary: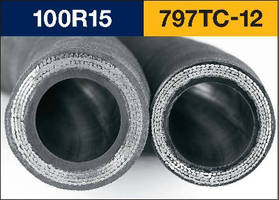 Available in -8, -10, -12, and -16 sizes, Compact Spiral(TM) 787TC and 797TC Hose feature 5,000 and 6,000 psi working pressure, respectively. Both have synthetic rubber inner tube with 4 spiral steel wire reinforcement and synthetic rubber cover. Suited for petroleum base hydraulic fluids and lubricating oils, hoses have been successfully tested to 2,000,000 impulse cycles, which is 2 times ISO 18752-DC standard and 4 times SAE requirement.
---
Original Press Release:

Strong Like Spiral, Bends Like Braided: New Compact Spiral(TM) Hose from Parker Provides Greater Flexibility, Smaller O.D. Size, Tighter Bend Radius, Less Weight and Longer Performance Life for New Standards in Customer Value



WICKLIFFE, OH - New Compact Spiral(TM) hose from Parker Hannifin Corporation, the global leader in motion and control technologies, offers unprecedented 5,000- and 6,000-psi hose performance in a compact design to deliver measurably greater routing, installation, size, weight and service life advantages compared with conventional SAE spiral hose. Combined, these benefits create considerable material, shipping and inventory cost savings for customers.

Compact Spiral hose represents the most significant advancement in Parker hydraulic hose technology since the introduction of No-Skive(TM) fittings more than 25 years ago. New 787TC (5,000 psi) and 797TC (6,000 psi) Compact Spiral hose is immediately available in sizes -8, -10, -12 and -16. Both hose lines will be extended at a future date to include larger sizes.

The many innovative and proprietary features of patent-pending Compact Spiral hose establish new standards in customer value...

o Greater Flexibility, Smaller O.D. Size, Tighter Bend Radius

For Compact Spiral, Parker engineered a new high-performance inner tube that made it possible to refine, redesign and significantly reduce overall hose construction. Compact Spiral has 1/2 the bend radius and a nearly 30% smaller O.D. than conventional SAE spiral hose. It also requires 1/3 less effort to bend.

As a result, bends can begin sooner. This reduces the total amount of hose needed by 20-55% depending on the application. Compact Spiral is also easier to route and install, which saves time and reduces effort. More hose can also be routed into tight quarters where larger diameter, less flexible hoses simply would not fit. Furthermore, customers can "jump up" to a larger hose size to achieve better flow characteristics for their hydraulic system while maintaining an O.D. similar to the smaller hose that was previously installed (for instance, the O.D. of a -12 size Compact Spiral hose equates to the O.D. of a -10 size comparable SAE hose).

o Longer Performance Life

Compact Spiral hose has been successfully tested to 2,000,000 impulse cycles, which is two times the ISO 18752-DC standard and four times the SAE requirement. This equates to significantly longer service life in nearly all applications - particularly those where many repeat cycles occur within a short timeframe, such as with an injection molding machine.

o Less Weight

Compact Spiral weighs up to 26% less than standard spiral hose. In addition to ease of handling, this weight reduction can lead to significant fuel savings for equipment with many hydraulic hoses, such as car carriers and refuse trucks. Shipping and packaging costs are also reduced.
This information represents only a synopsis of the design features, performance benefits and customer value propositions inherent to new Compact Spiral hose from Parker.

Download the Compact Spiral Hose White Paper to take an in-depth look at the design and performance characteristics of the smallest, lightest, tightest bending, most flexible spiral hydraulic hose engineered to date.

Visit CompactSpiral.com to learn even more about simplified fitting selection, reduced hose inventory requirements and enhanced fluid compatibility.

The Hose Products Division is a unit of Parker Hannifin Corporation's Fluid Connectors Group. The Group is headquartered in Cleveland, Ohio, and is the world's leading producer of tube fittings, rubber and thermoplastic hose and fittings, brass fittings and valves, quick-connect couplings and assembly tools.

With annual sales exceeding $10 billion in fiscal year 2009, Parker Hannifin is the world's leading diversified manufacturer of motion and control technologies and systems, providing precision-engineered solutions for a wide variety of mobile, industrial and aerospace markets. The company employs approximately 52,000 people in 48 countries around the world. Parker has increased its annual dividends paid to shareholders for 53 consecutive years, among the top five longest-running dividend-increase records in the S&P 500 index. For more information, visit the company's web site at www.parker.com, or its investor information site at www.phstock.com.

More from Non-Industrial Products