Spiral Freezers feature modular design.
Press Release Summary: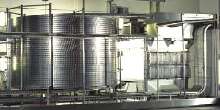 M-Series GYRoCOMPACT® spiral freezers are based on self-stacking belt that eliminates need for bulky and difficult-to-clean support structure. Freezing zone is thoroughly cleanable, allowing units to meet food safety demands. Increased access to evaporators and other areas inside freezer also facilitate cleaning process.
---
Original Press Release:

Unique Modular Spiral to be Launched at IPA


Frigoscandia Equipment,a member of FMC FoodTech and the world leader in food freezing equipment, will be showcasing an entirely new line at this year's IPA trade fair in Paris. With its unique modular design, the M-series GYRoCOMPACT® spiral freezers represent an entirely new concept and incorporate no fewer than 217 improvements on what was already the world's best-selling spiral.

"A lot of innovation and a lot of customer feedback have gone into the design of this new series," says Mr Torbjörn Arvidsson, President of Frigoscandia Equipment. "We've been scrutinizing every detail from the ground up, finding every possible way to improve hygiene, reliability and overall operating economy. Our motto has been to make the best even better!"

Since they were first launched, GYRoCOMPACT spiral freezers have been based on a unique self-stacking belt that eliminates the need for a bulky and difficult-to-clean support structure. This concept has given the freezer a thoroughly cleanable freezing zone, a feature of increasing importance in an industry where food safety demands are constantly growing.

"In our new M-series, we've taken the concept of cleanability beyond the freezing zone and applied it to the entire freezer," says Mr Ingmar Pahlsson, Frigoscandia Equipment's product manager for GYRoCOMPACT spiral freezers. "Many of our improvements focus on increased access to evaporators and other areas inside the freezer housing, in order to make thorough cleaning fast easy and economical. And by taking a creative design approach that essentially started from scratch, we've
been able to come up with many performance-related improvements as well. In one sense, we're talking about a whole new freezer!"

In addition to Frigoscandia Equipment, several other companies within FMC FoodTech will also be represented at the FMC FoodTech stand at IPA. These include Stein, the world leader in coating, cooking and frying systems; DSI, pioneers in the field of water jet portioning systems; PPM, experts in potato and snack processing; and Allen Systems, experts in conveying, inspection and flavoring systems.

FMC FoodTech,including Frigoscandia Equipment's new M-series,can be found at stand 2H11 at IPA, 18-22 November. Please contact Mr Patrick Bertaudiere, Managing Director/France,+33 1 39 96 46 46 or Ms Anna Norrlin, European Marketing Manager,+46 42 490 4000 for further information concerning Frigoscandia Equipment AB, Stein and DSI; and Mr Göran Wadsten, +46 44 20 44 00 regarding PPM and Allen Systems.

About FMC FoodTech
FMC FoodTech is an operating group of FMC Technologies,Inc, and is headquartered in Chicago,IL,USA. A market leader in the supply of technology solutions for the global food industry, FMC FoodTech offers integrated solutions across the entire food
processing continuum, from meat, seafood and poultry, to fruits and vegetables, beverages, milk and convenience foods.

Wherever food isharvested, processed, portioned, squeezed, cooked, sterilized, frozen, preserved or packaged, FMC FoodTech helps customers by providing superior technologies and services to the world's largest food processors, suppliers and fast-food chains, as well as institutional and commercial restaurants. The company represents more than 30 highly respected product brand names including Frigoscandia Equipment, Stein, DSI, Citrus Systems, Food Processing Systems, FranRica, Allen Systems and PPM.

For more information on FMC FoodTech, visit the company's website at fmcfoodtech.com.

More from Electronic Components & Devices