Spinning Flare Nuts rotate freely for hardware attachment.
Press Release Summary: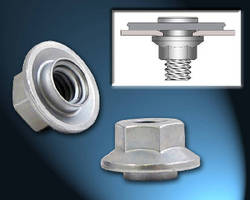 Available in thread sizes M5–M8, PEM® Type SFN™Â one-piece flanged hex nuts install in steel, stainless steel, or aluminum sheets of any hardness and as thin as 1 mm. Upon installation, steel nuts become permanently captive and will spin freely in sheet to accommodate mating hardware for final component attachment. Fasteners install by inserting them into properly sized, pre-punched, and embossed mounting holes and then applying sufficient squeezing force to flare shank.
---
Original Press Release:

PEM® Type SFN(TM) Spinning Flare Nuts Rotate Freely for Quick Attachment of Mating Hardware



New PEM® Type SFN™ spinning flare nuts are designed to rotate freely when permanently captivated in thin metal sheets for quick attachment to mating hardware and reduced need for loose fasteners such as flange nuts.  When paired with a self-clinching stud or other fixed externally threaded hardware, all loose hardware can be eliminated from an application to help streamline assembly time and decrease production costs.



PEM Type SFN one-piece flanged steel hex nuts install easily in steel, stainless steel, or aluminum sheets of any hardness and as thin as 1mm.  Upon installation, the nut becomes permanently captive and will spin freely in the sheet to accommodate mating hardware for final component attachment.



The fastener installs by inserting it into a properly sized, pre-punched, and embossed mounting hole and then applying sufficient squeezing force to flare the shank.  When installed, the part will appear identical to a standard flanged hex nut above the sheet and will remain flush on the other side.



PEM Type SFN spinning flare nuts are available in thread sizes M5 through M8.



Detailed specifications, installation animation, CAD models, and performance data (Bulletin SFN) for these RoHS-compliant fasteners can be accessed at www.pemnet.com



Contact Michael J. Rossi, PennEngineering®, 5190 Old Easton Road, Danboro, PA 18916-1000 USA.  Phones: 800-237-4736 (toll-free in the U.S.) or 215-766-8853; Fax: 215-766-0143.  Web site: www.pemnet.com





More from Fasteners & Hardware