Spindles improve scanning of semiconductor wafers.
Press Release Summary: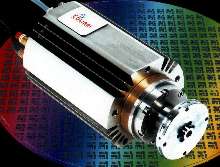 Series BER utilizes Motorized Bearing Technology and offers speeds to 10,000 rpm, low runout from 0.2 to 0.5 µm, clean room compatibility, integral encoder, through-the-shaft vacuum, and self-cooling. Balanced to G 0.4 standards, spindles have high stiffness of 7 N/µm axial and 10 N/µm radial. Units are 120 mm in diameter and 190 mm long. They provide power output of 550 W and up to 0.6 Nm of torque. Load capacities are 75 N radial and 100 N axial.
---
Original Press Release:
Spindle Improves Scanning Accuracy and Throughput

Lavon, Israel - Greater accuracy and higher throughput in automatic wafer testing systems can be achieved when a high speed aerostatic (air bearing) Colibri spindle has been integrated into the system. The BER Series of "Motorized Bearing Technology"(MBT) spindles though designed for automatic scanning of semiconductor wafers is ideal for a broad range of operations requiring a high performance spindle. In the wafer inspection process a rotating wafer is scanned with a laser for flaws, contamination, and/or imperfections. In this and other scanning operations the performance of the spindle is critical.

Features of the Colibri's BER series spindles include high acceleration/deceleration, high speed (to 10,000 Rpm's), very low runout (0.2 to 0.5 µm), high stiffness, clean room compatibility, integral encoder, through-the-shaft vacuum, and self-cooling. Incorporating Colibri's "Motorized Bearing Technology"(MBT), the BER series spindles are available with any spindle nose required. Balanced to G 0.4 standards and with the low friction, high stiffness (7 N/µm axial and 10 N/µm radial), and the precise axis definition typical of aerostatic bearings, these smooth running spindles are ideal for semiconductor wafer inspection and other laser positioning systems.

With a power output of up to 550 Watts, these compact, motorized spindles feature up to 0.6 Nm of torque and yet are just 120 mm in diameter and 190 mm long. The use of the electrical motor as a radial bearing contributes to the high load capacities of 75 N radial and 100 N axial.

Colibri Spindles, Ltd. specializes in the design and manufacturing of aerostatic and hydro-static spindles featuring the patent pending, "Motorized Bearing Technology"(MBT). Their spindles are used in Micromachining and Fine Milling, Fine Drilling, Soft and Hard-Material Dicing, Automatic Semiconductor Wafer Testing, and Spinning of Optics or Drums for the etching of printing plates using a laser. Colibri Spindles is part of the ISCAR IMC Group. ISCAR being one of the world's largest manufacturers of cutting tools. Headquartered in Israel, member companies of the ISCAR IMC Group are located worldwide and are involved in various aspects of the cuffing tool industry. A primary purpose of the Group is to provide users in metal working industries with advanced technology products on a global scale. Colibri and IBAG - Switzerland AG and IBAG - North America has formed Strategic Partnerships. IBAG will distribute and integrate Colibri spindles and represent Colibri at tradeshows.

For additional technical information contact: Oded Wertheim, Colibri Spindles, Ltd., Lavon Industrial Park, M.P. Bikat Bet Hakerem 25127, Israel; Tel: 972-4-908-1304, Fax: 972-4-958-9061, E- Mail info@colibrispindles.com Web site; www.colibrispindles.com
More from Electronic Components & Devices