Spindle is designed for hard-metal machining.
Press Release Summary: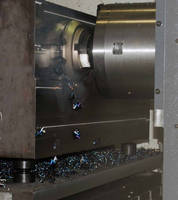 Suitable for 4-axis 1250/1600 HMCs, T-Rex spindle delivers up to 1,918 lb-ft torque into cut to optimize metal removal rates on large workpieces of hard materials, such as titanium, Inconel, and Carpenter 465. Configured with 107.3 hp driving power and 2 speed ranges up to 5,000 rpm, spindle is engineered with 5.1 in. ID bearings to handle 9,500 lb cutting thrust capability of HMCs. Equipment suits aerospace, energy, and heavy equipment manufacturers.
---
Original Press Release:

New T-Rex Spindle is King of Hard-Metal Machining



Spindle's 2600 Nm torque combines with HMC's 42.3 kN cutting thrust to triple metal removal in Carpenter 465

Fond du Lac, WI - MAG's new high-torque T-Rex spindle, available on four-axis HMC 1250/1600 machines, can deliver up to 2600 Nm (1,918 lb-ft) torque into a cut to produce extreme metal removal rates on large workpieces of hard materials, such as titanium, Inconel, and Carpenter 465. Developed for the machining needs of aerospace, energy and heavy equipment manufacturers, the T-Rex spindle is engineered with 130 mm (5.1 in) ID bearings to handle the 42.3 kN (9,500 lb) cutting thrust capability of the HMC 1250/1600 series horizontal machining centers. The T-Rex spindle is currently available on four-axis machines, configured with 80 kW (107.3 hp) driving power and two speed ranges up to 5,000 rpm.

The T-Rex spindle recently demonstrated triple the metal removal rates over previous spindle designs for an aerospace customer machining Carpenter 465 hardened to 50-52 Rc. The demonstration utilized a 75 mm (3 in) diameter Harvi inserted endmill with five flutes and 13 inserts per flute. The cutting parameters were 100 mm (4 in) axial depth of cut, 24 mm (0.95 in) radial depth of cut, and 0.5 mm/rev (0.020 ipr) feedrate. "This cut produced an excellent surface finish with no sign of chatter and virtually no vibration, using only one-third of the available spindle power," said Pete Beyer, MAG's Director of Product Development. "The power of this spindle is so great that it easily handled the full Y-axis thrust of the demonstration machine, which can be equipped with higher torque axis motors to produce even higher metal removal rates. This power, coupled with the stiffness and vibration damping of the machine chassis, puts the HMC 1250/1600 in a class by itself for large hard-metal parts."

The HMC 1250/1600 is engineered to make short work of large parts, such as pumps, valves, turbines, off-road equipment, and rail or aerospace parts. Major machine components, including the X-bed, Z-bed and column, are cast ductile iron, with pallets up to 1600 x 2000 mm, headstock and rotary table housings of gray cast iron. The 360,000-position full-contouring rotary table provides a rigid work platform, while a rugged worm gear drive with clamp securely holds axis position. Rotary table positioning accuracy is 10 arc seconds, repeatable to 5 arc seconds.

Meeting industry needs for tighter part tolerances and greater machining accuracies, the HMC Series comes standard with linear scale feedback in X, Y and Z axes, providing 8 micron (0.0003 in) positioning accuracy and 5 micron (0.0002 in) repeatability. Heavy-duty hardened and ground roller guide ways enable a rapid traverse rate of up to 40 m/min (1575 ipm) with high acc/dec rates, double the load capacity, and nearly 10 times the wear life of ball-type ways.

Eight spindle options include: 6000 and 8000 rpm/46 kW (61.6 hp) tilt-spindles with +90/-120 degree A-axis travel; a 10,000 rpm/46 kW (62 hp) spindle; high-speed 24,000 rpm spindle; T-Rex high-torque 2600 Nm/80 kW (1918 ft lb) spindle and two live spindles (110 or 130 mm diameter). The high-torque T-Rex spindle is specially engineered for hard-metal cutting, while the live spindles extend W-axis reach by up to 800 mm (31.5 in), enabling deep cavity milling to high precision with shorter, more rigid tools. Standard on the live spindle, MAG's exclusive Z-axis thermal compensation system dynamically offsets spindle growth to maintain correct axial position regardless of spindle temperature.

For more information, visit MAG-IAS.com.

About MAG
MAG is a leading machine tool and systems company serving the durable goods industry worldwide with complete manufacturing solutions for metal cutting and composites applications. With a strong foundation based upon renowned brands such as Boehringer, Cincinnati, Cross & Trecker, Ex-Cell-O, Fadal, Forest Liné, Giddings & Lewis, Hessapp, Honsberg, Hüller Hille, Lamb, Modul and Witzig & Frank, MAG is recognized as the preeminent provider of tailored production solutions based on state-of-the-art technology. Key industrial markets served include aerospace, automotive and truck, heavy equipment, oil and gas, rail, solar energy, wind turbine production and general machining.

With manufacturing and support operations strategically located worldwide, MAG offers comprehensive lines of equipment and technologies including turning, milling, hobbing, grinding, honing, systems integration, composites processing, maintenance, automation and software, tooling and fluids, and core components.

For more information about MAG, please visit: www.mag-ias.com

More from Material Handling & Storage