Spindle Connection aids work with high-strength materials.
Press Release Summary: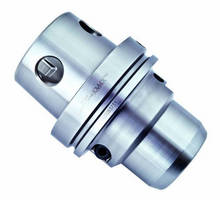 As interface between machine tool spindle and toolholder, KM4X100™ delivers clamping force and interference levels which provide robust connection, stiffness, and bending load capacity needed for machining high-strength alloys and other materials. Three-surface contact for stability and clamping force distribution and interference fit optimize bending moment resistant capacity. KM4X systems can be applied on multi-tasking, turning, machining centers, and transfer machines.
---
Original Press Release:

Kennametal Announces Breakthrough KM4X100(TM) Spindle Connection



Spindle connection helps deliver maximum machine tool power for maximum metal removal in titanium and hard alloys



The spindle connection is the "handshake" -- the interface between the machine tool's spindle and toolholder. As such, this vital component has to provide the torque and bending load capacity compatible with the machine-tool's operating specifications. But when machining high-strength materials like titanium and other alloys, cutting forces generate bending moments that will exceed the interface's limits prior to reaching the machine tool's torque threshold. By combining high clamping force and optimized interference levels, Kennametal's new KM4X100™ provides a robust connection, extremely high stiffness, and bending load capacity for greatly improved performance in machining high-strength alloys and other materials. The result is extremely high metal removal rates and more completed parts per shift.



"In most cases, the tool-spindle connection determines how much material can be removed on a given operation," says Doug Ewald, director, global product management, tooling systems at Kennametal. "This is because this interface must withstand high loads and yet maintain its rigidity. With the ongoing advances in cutting tools and machining centers, a spindle connection like KM4X 100™ that makes the best utilization of available power possible is an important consideration to investigate early in production planning."



Global Priority

High-strength, lightweight materials such as titanium alloys, Inconel, and new aluminium alloys are eagerly sought by manufacturers in many industries, including aerospace and defense, energy, and transportation. These new materials present significant machining challenges in themselves. Add the competitive pressures in these global industries, and finding advanced manufacturing solutions becomes a top priority. Machine-tool builders have responded with milling and turning centers that feature improved stiffness and damping on spindles and sizable machine structures and motors, all to provide the significant horsepower, torque and thrust forces required while minimizing undesirable vibrations that deteriorate part quality and tool life.



By using three-surface contact for improved stability and optimized clamping force distribution and interference fit, KM4X100™'s engineering results in three times the bending moment resistant capacity compared to other tool systems. This means:

-Shops can leverage KM4X-equipped high-performance machine tools to increase speeds and feeds in difficult machining applications, thus gaining the full productivity potential from the machine tool.

-Often, a smaller KM4X connection such as a KM4X100™ will provide the same or better cutting performance of a larger connection.

-KM4X systems can be applied on multi-tasking, turning, machining centers and transfer machines in manual, semiautomatic, or fully automatic mode.



"KM4X 100™ by design can perform in a wide range of operations, from low-speed/high torque to high-speed/low torque, allowing manufacturers to get the absolute most out of their production equipment," Ewald says. "Milling, drilling, and turning a wide range of materials just got more productive!"



Kennametal

Celebrating its 75th year as an industrial technology leader, Kennametal Inc. delivers productivity to customers seeking peak performance in demanding environments. The company provides innovative wear-resistant products, application engineering and services backed by advanced material science, serving customers in 60 countries across diverse sectors of aerospace, earthworks, energy, industrial production, transportation and infrastructure. With approximately 13,000 employees and nearly $3 billion in sales, the company realizes half of its revenue from outside North America, and 40% globally from innovations introduced in the past five years. Recognized among the "World's Most Ethical Companies" (Ethisphere); "Outstanding Corporate Innovator" (Product Development Management Association); and "America's Safest Companies" (EHS Today) with a focus on 100% safety, Kennametal and its foundation invest in technical education, industrial technologies and material science to deliver the promise of progress and economic prosperity to people everywhere. For more information, visit the company's website at www.kennametal.com.



Kennametal Inc.

1600 Technology Way

PO Box 231

Latrobe, PA 15650-0231

USA

Kathy LINDEN

Phone: 724 539 5698

Fax: 724 539 6766

kathy.linden@kennametal.com



Kennametal Shared Services GmbH

Wehlauer Strasse 73

D-90766 Fuerth

Carsten GROMOLL

Phone: +49 911 9735 557

Fax: +49 911 9735 551

carsten.gromoll@kennametal.com

Powered by TCPDF (www.tcpdf.org)

More from Laboratory and Research Supplies and Equipment