Spin Welder combines precision and usability.
Press Release Summary: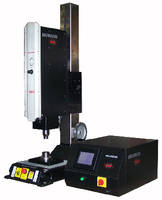 Driven by servo motor with accuracy of ±0.1°, Model SW300 is capable of welding circular joint interface parts with optimal control and consistent results. It incorporates mechanical, electrical, and pneumatic elements and can be configured to manual, semi-automated, or fully-automated plastics manufacturing environments. While 6 in. color touchscreen facilitates operation, linear encoder allows for collapse and absolute height modes. Optional vacuum union/spindle is also available.
---
Original Press Release:

Spin Welder Offers Precision and Ease of Use



Danbury, CT, February, 2009 -- Servo spin welding of thermoplastic parts is ideal for customers and applications that require more sophisticated process control and orientation of the welded assembly. To address the growing needs of the plastic industry, Branson has developed the Model SW300 spin welder. This welder is a precision servo-driven spin welding system capable of welding circular joint interface parts with accurate control and highly consistent results. The SW300 incorporates new mechanical, electrical, and pneumatic designs. The SW300 can be configured to manual, semi-automated, or fully-automated manufacturing environments.

Key Features and Benefits
o Updated servo motor and drive
o Servo motor accuracy of ±0.1 degree
o Linear encoder for ease of setup - allows for collapse and absolute height modes
o Optional Vacuum union/spindle for loading parts in spin tool prior to cycle start
o Selectable rotation direction: clockwise/counterclockwise
o 6" color touch screen operator interface
o Intuitive operator interface allows easy movement between screens.
o User configurable I/O (four of each)
o Storage of up to 20 recipes (presets)
o RS 232 data port
o Programmable home position and limits

How does spin welding work?
Spin welding is a process that joins circular thermoplastic parts by bringing the part interfaces together, under pressure, with a circular, spinning motion. One part is held stationary in a fixture, while the other is rotated against it under pressure. The frictional heat that is generated causes the part interfaces to melt and fuse together, creating a strong, hermetic seal.

Applications
Some applications where Spin welding has been used successfully are automotive tail lamps and caps, tube fittings, abrasive disks, thermal mugs, and water filters.

Branson offers a full range of plastic welding equipment
The flexibility and range of all Branson welding systems allows you to select components and create the assembly system that meets your needs, matching system features to your application requirements. Branson Ultrasonics Corporation provides detailed information and guidelines for optimal use of their welding equipment for customers and interested persons.

Headquartered in Danbury, Connecticut, Branson Ultrasonics Corporation is the leading worldwide manufacturer of plastics joining equipment including ultrasonic, linear and orbital vibration welders, hot plate welders, laser IRAM welders, infrared welders, and spin welders for assembling thermoplastics. Branson also manufactures ultrasonic equipment for sealing and/or slitting thermoplastic textiles and films, food cutting and processing, metal welding, processing biological and chemical solutions, and precision commercial and industrial cleaning. Branson was founded in 1946 and is a subsidiary of Emerson Electric Co., St. Louis, MO.

More from Electrical Equipment & Systems