Spin-On Filters utilize seamless can to eliminate leaks.
Press Release Summary: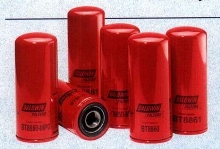 Medium-pressure, hydraulic spin-on filters feature L-Lock(TM) hem to retain aluminum baseplate, creating seamless design and eliminating possibility of seam leaks. O-ring gasket replaces larger molded gasket. Filters are installed with ½ turn after gasket contact.
---
Original Press Release:

Baldwin Filters Improves Hydraulic Spin-on Design


Baldwin Filters is incorporating a new design for its medium pressure hydraulic spin-on filters. The new construction method, which results in the same performance, utilizes a seamless can and an aluminum baseplate similar to the OEM filter design.

The aluminum baseplate makes the unit lighter, putting less stress on the mounting stud. The L-Lock(TM) hem that retains the baseplate is a seamless design, eliminating the possibility of seam leaks. A new o-ring gasket replaces the larger molded gasket used on the current filters, reducing the gasket to first thread distance.

The newly designed filters will be installed with a 1/2 turn after gasket contact instead of 1 1/4 turns with current product, resulting in easier installation and more thread engagement.

The new Baldwin medium pressure hydraulic filters deliver the performance expected from Baldwin products. Structural integrity is assured with tests showing burst pressures exceed OEM supplier's published minimum specifications by 55%. Tests also show a 13% higher average tolerance to pressure pulses of 0 to 500 psi.

Baldwin Filters, a CLARCOR company, produces over 5,000 lube, air, fuel, coolant, hydraulic and transmission filtration products for most applications, and can be purchased from distributors worldwide. For additional information about Baldwin hydraulic filters or other Baldwin products, write to Baldwin Filters, P.O. Box 6010,4400 East Hwy. 30, Kearney, NE 68848 or visit our web site at www.baldwinfilter.com.